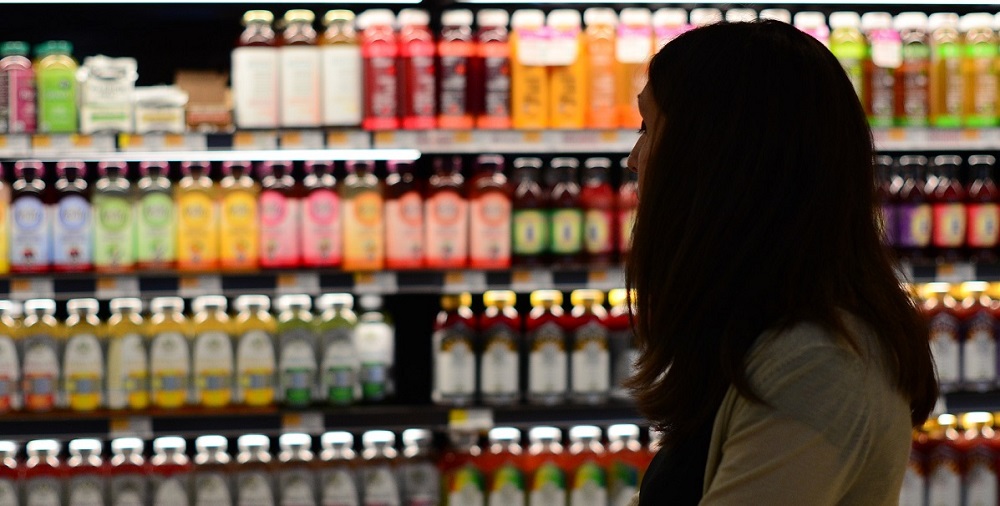 The food and beverage industry is one of the most competitive industries in the world. The industry is dominated by household names. You are competing against the likes of Coca-Cola, Pepsi, Nestle, Kraft, Kelloggs, and Mars. These giants control the majority of shelf space in grocery stores around the world.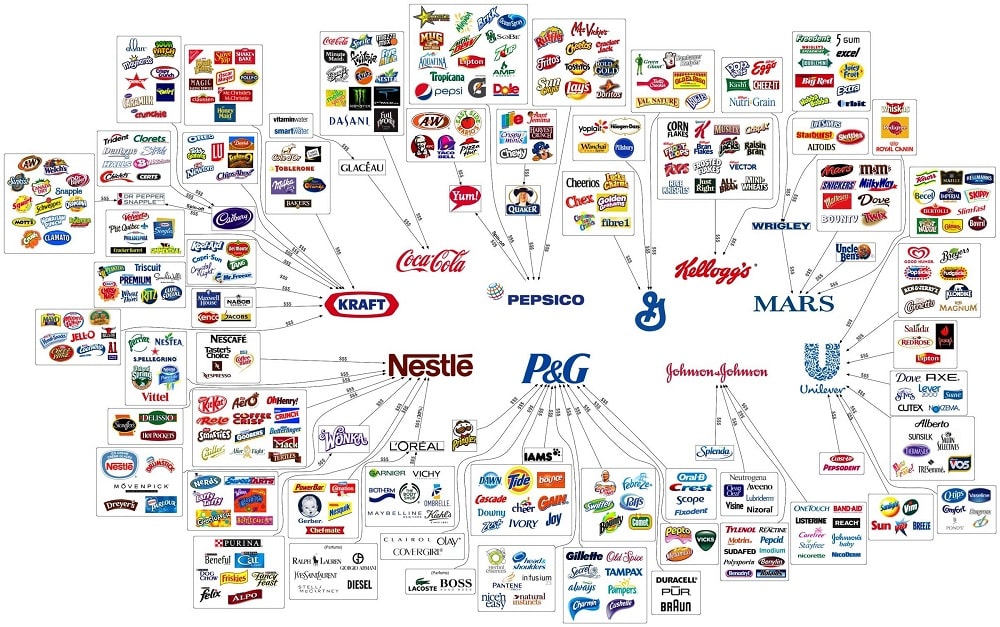 In this industry, you are battling to get on the shelves of retailers and grocery stores.
"The longer you're in the beverage industry, the more you realise you're really in the distribution industry." – Ben Weiss, the founder of Bai Brands who recently got acquired for $1.7 billion.
The battle for shelf space
In this video, Sparkling Ice's CEO Kevin Klock mentioned that he sees shelf space as a battleground to compete for consumers' attention. Sparkling Ice is the fastest growing beverage company in the US. They grew sales from $10 million in 2010 to $667 million in 2016. Skip to 0:20 in the video below to hear his thoughts on this.
Thousands upon thousands of salespeople call retailers every week to get their products on their shelves. Brent from New Age Beverage, ex-President of Coca-Cola said you will rarely ever get a retailer or distributor calling a food and beverage company.
So if these retailers and distributors aren't going to come to you, the question now becomes…
How do you get your brand in front of retailers and distributors?
There are a few viable marketing channels available here:
Cold call: This is the most common practice to get in front of retailers and distributors.
Trade shows: This is the most convenient way because, during a trade show, retailers and distributors are there to find the next product to stock on their shelves.
Social media: A powerful brand-building tool that can influence consumers to buy your product from the retail stores.
TV and radio: Quick way to gain exposure very rapidly but it comes at a cost.
Event sponsorships: Sponsorships have been slowly getting popular among F&B companies. RedBull leads the way in this category by sponsoring all types of events. SparklingICE is following the same plan and they have plans to 200 events this year.
eCommerce: This is a growing channel. Currently, it is nowhere near as big as retail. The majority of food and beverage purchases are still done in-store.
Two benefits how using trade shows can get you onto shelves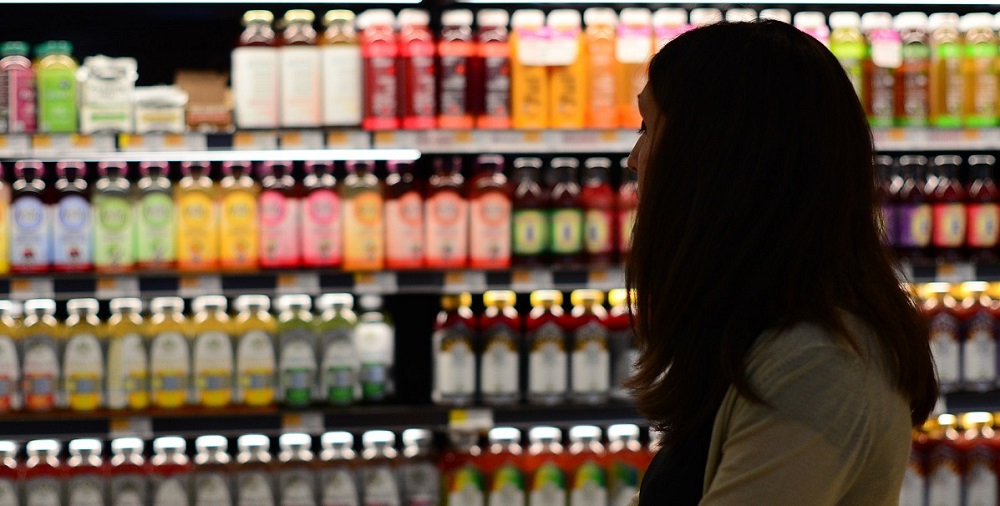 1. Get in front of decision makers face to face
This would be the biggest benefit to exhibit at a trade show. Mom and pops wouldn't pay $500 to check out the latest food and beverage brands. For example, the ticket price for 2019's USA Trade Tasting Exhibition is around $600. So those people walking around the trade shows are either (i) retailers and distributors, (ii) journalists and bloggers or (iii) your competitors.
Cold calling is a grueling process. Unless you have connections within the industry, it takes hours and hundreds of cold calls per day to schedule a meeting with retailers. In a trade show, decision makers are there shopping for the next best brand to stock on their shelves. They are essentially coming to you!
Here is a testimonial from a salt company for a food expo:
"The Naturally Good Expo was fantastic! We had 175 lead opportunities and one very large USA retailer who within a few weeks had placed their first order for 37 stores in Australia and 3,000 stores overseas." – Michael Lindsey, founder of Saltylicious
2. Meet journalists and bloggers
Another huge benefit of trade shows is journalists and bloggers attend trade shows all the time. These people are always hungry for content. Their jobs and businesses depend on the content they produce and they want to be the first to cover the next upcoming Sparkling Ice or Coca-Cola.
Getting in front of these people is equivalent to getting in front of thousands of shoppers, retailers, and distributors among their readerships.
Two ways to maximise the ROI of your trade shows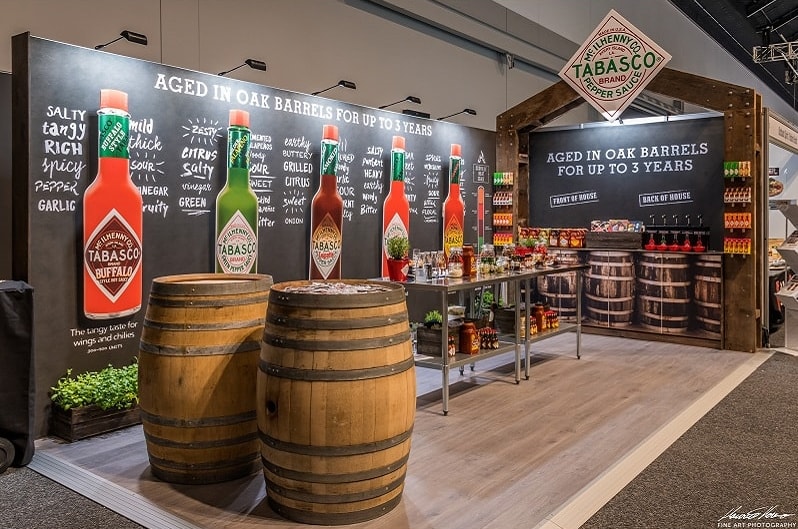 Unless you are Coca-Cola or Pepsi or another food and beverage company with multi-million dollar advertising budgets, getting a custom exhibition stand is most likely out of the question. There are two things you can do to maximise the ROI of your trade show investments:
1. Choosing the right trade show to attend
Obviously, you want to be attending the trade shows with the most retailers, distributors, and journalists in the F&B industry. Two key questions to ask the expo organiser:
What is the attendance like? How many attendees attend the show each year?
How many of them are retailers, distributors, and journalists?
2. Control the cost of your exhibition stands
The space of the booth is just one part of the cost. This is something that is out of your control but what you can control is the cost of your booth.
If you decide to go full custom, you would have to factor in the costs that go into building one such as:
Design and concept
Construction
Graphic prints
Installation and dismantling costs – You would require a team of professional installers to set up your stand before the show and dismantle it after the show.
Logistic costs – You can't throw it into the back of your car and bring it to the show.
Maintenance and repairs
Read more about what do you need to budget for a trade show.
The next question is do you rent or buy?
The short answer is if you are going to attend more than two trade shows, you are going to be better off buying. Renting makes sense if you are attending an international show with the goal of opening up a new distribution network there. By renting, you don't have to deal with shipping your stand internationally. Read more on renting vs buying.
What do we recommend?

If you have been using trade shows as a marketing channel or are serious about using trade shows, then we would recommend our TRIGA system.
It is a modular exhibition display system. Meaning the stand can be used to adapt to different booth sizes. So if you have a 3×3 booth space in one show and are exhibiting at a 6×3 booth space in another show, all you have to do is get more parts to suit the 6×3 space and fabric prints to suit the larger booth space.
It packs down into bags which saves you on your storage costs.
The hardware is durable which means you can reuse them for years to come.
Exhibit internationally If you are looking to exhibit internationally, you can transport the stand yourself and save on shipping costs.
Summary
"The longer you're in the beverage industry, the more you realise you're really in the distribution industry." – Ben Weiss, the founder of Bai Brands (acquired for $1.7 billion by Keurig Dr Pepper).
Trade shows is a key marketing channel for F&B brands especially startups with little to no distribution. Trade shows get you in front of retailers, distributors, and journalists. These are the people who can sell your products.
Our range of exhibition displays