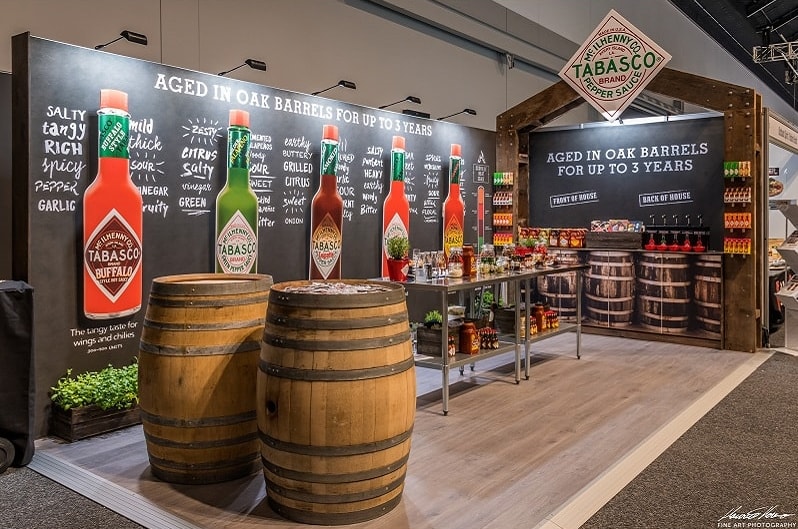 Do you rely on trade shows and exhibitions to promote your business and sell your products or services? If you do, you may find the costs involved can eat up as much as 20% of your annual marketing budget. That is a huge investment for any organisation. Plus there is a risk you won't receive a decent return on your investment.
So wouldn't it be great if there was a proven way to cut those costs and look even better on the day?
Your exhibition stand could be wasting your time and money
A large chunk of trade show exhibitors typically allocates their budget on over-engineered, custom-built stands that need an army of sub-contractors to design, construct, deliver and install.
Here is a video of what it takes to set up a custom exhibition stand. Starts at 0:25.
These costly stands are torn down after just a few days and usually end up at the tip, or relocated at considerable expense. It's a wasteful exercise — not only in terms of money but because of its impact on the environment.
Read more about how to choose the right exhibition stand here. In this post, we compare pop up displays, custom stands, and modular stands.
A better way to spend your trade show budget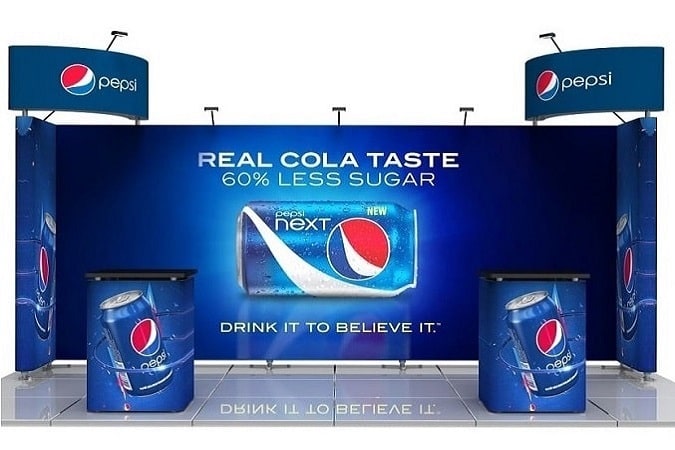 Now there's a more effective way to use your promotional dollar and get even better results.
Gone are the days where 'portable' meant putting up with poor quality pop-ups that didn't come anywhere near presenting the professional image you demand of your brand.
The amazing progress in digital printing technology in recent years, particularly in textile or 'soft-signage' production, has created an abundance of much-improved, re-configurable, and cost-effective portable display alternatives for trade show exhibitors.
The emergence of photo-quality, digitally-printed, fabric graphics and hardware as an alternative to rigid panel displays is certainly a game-changer for exhibitors planning and designing stands.
Computer-Aided Design (CAD) and 3D rendering software allow the creation of stunning, customised, portable, build-it-yourself stands to rival traditional permanent displays. And, incredibly, at only a fraction of the production time and cost.
A custom stand look without the custom price tag

A custom stand look without the custom price tag? Is that even possible? With a modular exhibition display system, it is.
Smart companies who are looking to take their marketing dollars further are already flocking to the new modular exhibition stand instead of the traditional custom stands made out of rigid panels.
Here are some of the benefits of a modular exhibition stand:
1. Lightweight and easy to install
Their lightweight and compact design bring you immediate logistical cost savings. These modular stands take a lot less time to install and dismantle compared to a traditional custom stand. Plus you only need only one or two people to do it. Best of all, you don't need any tools or trade qualifications.
2. The custom stand look
Their aesthetic appeal and durable fabric graphics keep your displays in tip-top shape and looking glorious. No more worrying about your materials arriving on site looking like they've fallen off the back of the truck!
3. Multiple add-ons
Their clever engineering design means you can attach screens, shelves, lightboxes, and other accessories to the face of the display, giving the old 'shell scheme' walls a real run for their money.
4. Fits into different booth spaces
Undoubtedly though, the most compelling feature of a modular stand is its ability to be reconfigured to suit multiple dimensions with minimal effort.
Think of it as a LEGO set for trade shows! You could take a seamless six-meter backdrop wall and turn it into an attractive, three by three meter corner unit at no additional cost.
This feature is found in only a handful of modular display systems on the market so be sure to check your options out thoroughly before buying. While it does add a little to the cost, the extended use this type of versatility offers is well worth it.
Our range of exhibition displays