Our newest, exciting addition to the TRIGA® family.
TRIGA® Go is an affordable, ultra lightweight textile display solution. TRIGA®'s patented tensioning devices ensure a wrinkle-free finish, whilst the tool-less, modular frame structure allows for a quick and easy setup.
With TRIGA® Go the assembly of small and medium sized textile display stands, walls, totems or towers are now even quicker, with no compromise on the seamless finish and solid design you'd expect from a TRIGA® DISPLAY.
Simple, elegant
& innovative.
Design and build eye-catching tension-fabric displays. From banner walls, towers, counters or small to medium sized display stands. The Triga® system is a sleek and sustainable solution for any indoor environment.
TRIGA® Go is PERFECT for?
TRIGA® Go with it's solid engineering and our professional support teams, allows you peace-of-mind with all your current and future marketing campaigns. Choose TRIGA® Go for:
Small to medium sized exhibition stands, brand walls, presentation backdrops, pop-up stores and other in store activations.
Walls, towers, booths and totems up to 2.5m in height.
For structures where 90-degree angles are required.
Low or no weight bearing applications.
Professionals with a busy travel schedule. Exceptionally light and compact a TRIGA® Go stand is a perfect travel companion.
TRIGA® Go Totems

In Store Branding Totem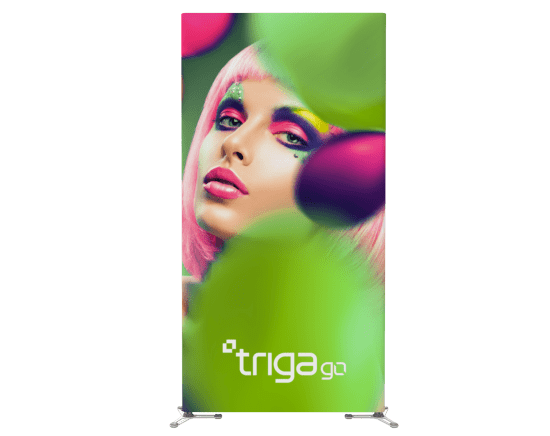 A TRIGA® Go Totem is quick and easy to setup with no tools needed. Perfect for instore branding, mobile marketing and advertising campaigns TRIGA® Go is perfect for budget sensitive projects requiring a quick turn-around. With minimal training, your team can set the system up on their own within 5 minutes. Double sided full colour fabric printing and a height range of 1 to 2.5m ensures you can either comply with mall branding restrictions or increase your branding area to make maximum impact. Totems also work fantastically as welcome boards and directional signage.
TRIGA® Go Straight Walls

Versatile Graphic Backdrop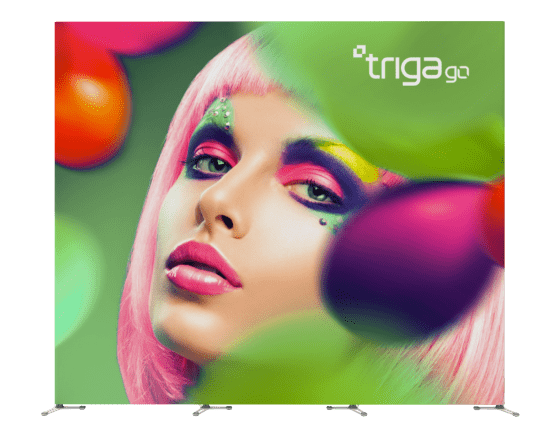 A TRIGA® Go portable wall can be used interchangeably as a backdrop for interviews, a presentation wall, a complementary branding surface for in store promotions or it can quite as easily be used as an office divider. The easy-to-setup aluminium structure is modular which means you can extend your wall as long as you want with additional components. If you own a 3 or 4 module system you can change the shape of the wall into a box, L shape, U Shape or Pylon. There is no equivalent to this versatile system.
TRIGA® Go Counters

Flat Pack Branded Counter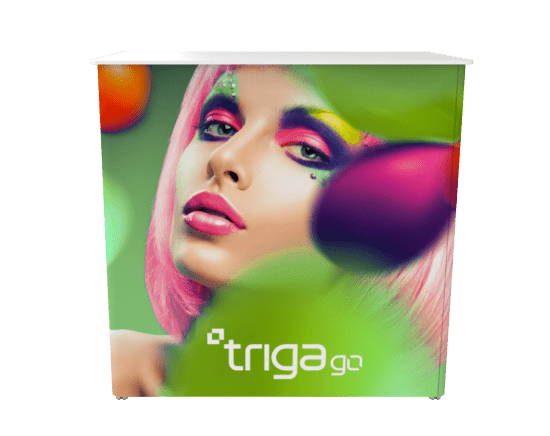 These counters are ideal for roadshows, exhibitions and eventing. The aluminium system assembles and dismantles without the need for tools and fit into a wheelie bag. Textile skins and counter tops can be fully branded. The textile prints are also interchangeable, meaning you can completely change the look and feel by merely replacing the textile graphic and re-using the hardware. The system is modular meaning you can create any type of counter, from a product plinth up to a fully kitted bar counter with split shelving.
TRIGA® Go L Booth

Portable Booth or Pop Up Shop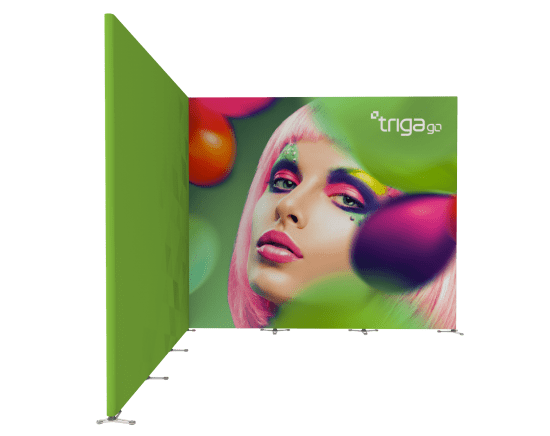 Pop up shops are becoming increasingly popular, especially over consumer high seasons. The expense of setting up a temporary retail space can be prohibitive. With the TRIGA® Go modular display system, you can erect and dismantle your store or exhibition stand in minutes. The fact that the system is modular, means that you can change the configuration of your store by simply adding extra components to the existing structure. Full colour, interchangeable textile prints allow you to completely change the look and feel of your display at minimal cost.
TRIGA® Go U Booth

Exhibitions & promotions on the go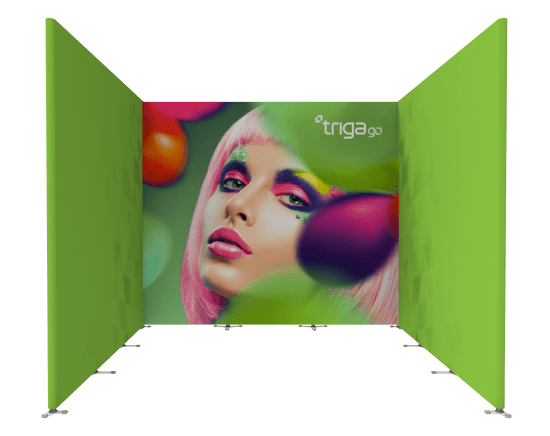 Tailoring your exhibition booths to your brand identity can be done practically and cost effectively using the TRIGA® Go exhibition booth system. You no longer need to rely on generic looking shell scheme structures supplied to you by exhibition organisers. The TRIGA® Go system is highly portable, breaking down into components that fit into a carry bags. With no tools needed to erect the system, travelling roadshows and exhibitions become a dream, allowing you to maximise your marketing campaign regardless of where you are exhibiting.
TRIGA® Go Towers

Portable Display Towers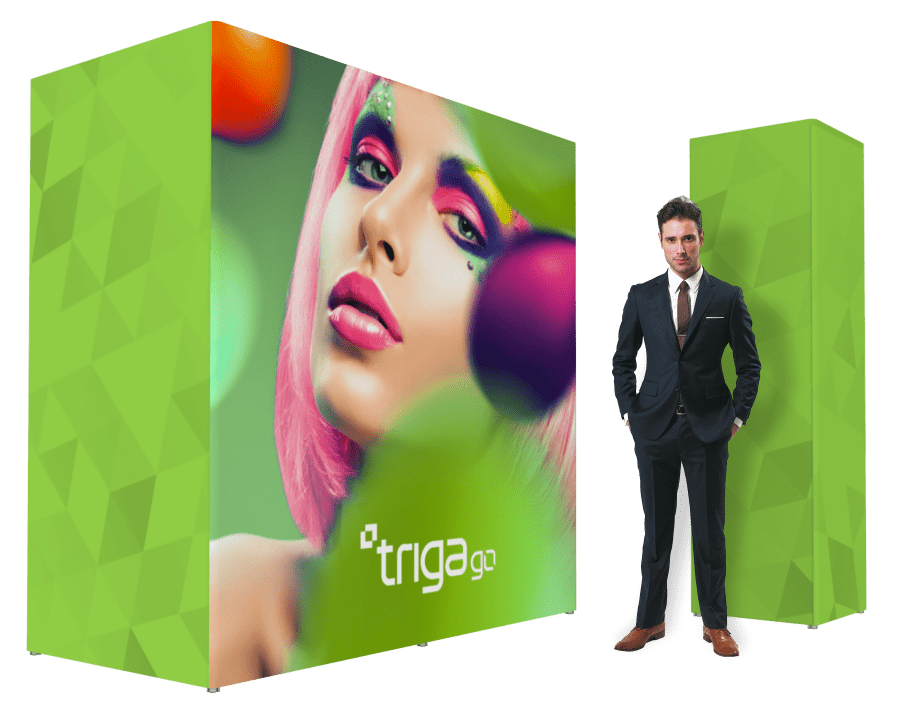 Branded towers for indoor applications. Easy to erect with no tools required, lightweight and extremely portable. The TRIGA® Go towers are available up to 2.5m in height with seamless full colour dye sublimated fabric prints. Units pack down into a wheelie bag. Ideal for shopping centre promotions, indoor billboards and modular exhibition stands.
TRIGA® Go 3 Panel Bag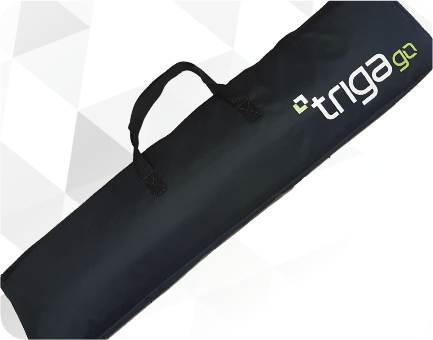 Can accommodate a 3.0m(w) x 2.5m(h) TRIGA® Go wall. Padded bag with double shoulder straps.
Carry capacity: 15kg
TRIGA® Go Totem Bag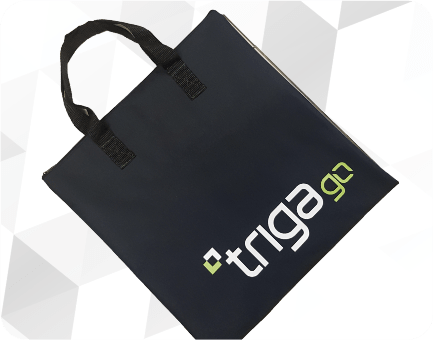 Can accommodate a 1.0m(w) x 2.5m(h) TRIGA® Go totem. Padded bag with double shoulder straps.
Carry capacity: 5kg
TRIGA® Go Counter Bag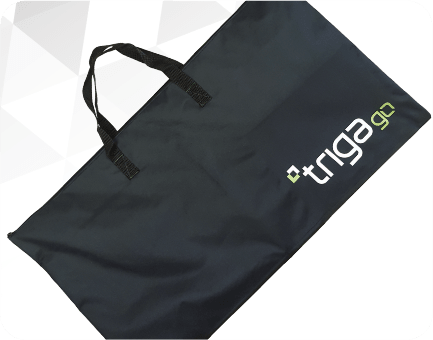 For TRIGA® Go counter tops and shelves. Sizes specific to top / shelf size.
Carry capacity: 5kg

Modular & Highly Versatile
Mix and match componentry and create diverse structures with different sizes, angles or heights in a matter of minutes.

Durable & Cost-effective
Local manufacturing means parts are readily available and you won't be left stranded if you need additional components.

Tool-less Assembly
You don't need to be a technical genius to assemble TRIGA® DISPLAYS. Assembly is quick, easy and saves time.
Full Range of Accessories
Lighting options for front and backlit, cabling systems and different size carry bags.

Ultra Professional Finish
The unique tensioning of TRIGA® results in smooth and seamless graphics with no unsightly creasing and unnecessary joins that impact on your design.

Scalable Design
Your TRIGA® DISPLAY can grow with your business and be used in a variety of applications. Just add on components, get creative and explore our almost limitless design options.

Lightweight and Portable
Ideal for busy professionals on the go! For example, a 9m long wall that stands 2.4m tall weighs less than 30kg, reducing transport costs and making it easy to move around.

Full Turnkey Service Offering
A TRIGA® DISPLAY is more than just the system. We offer a full service, from layout and design, digital printing and activation.