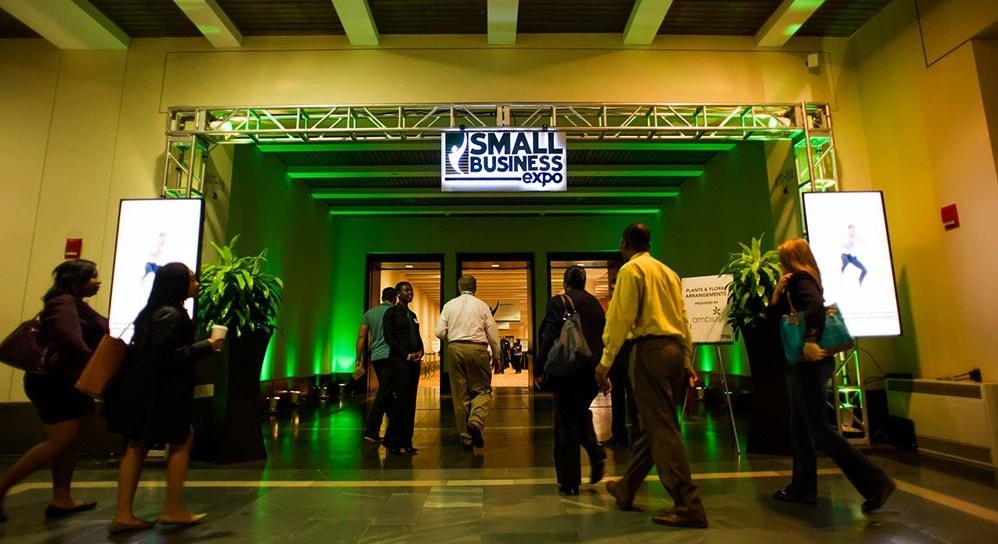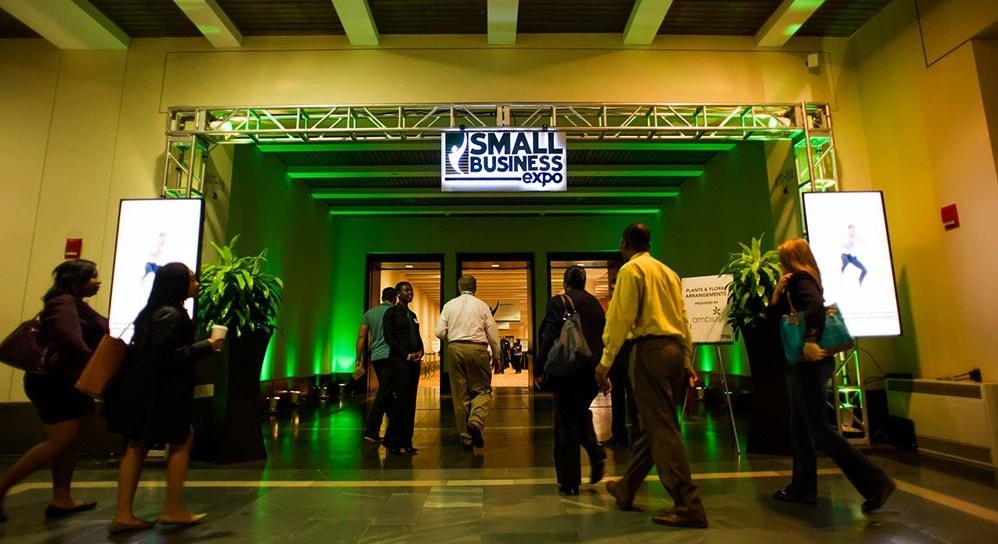 A trade show is like a battlefield.
You are competing with hundreds of other exhibitors for the attendees' attention. You are also being compared with your competitors on who is the more reliable company and who has a better product and service based on how your stand looks, how your staff communicates and how the attendees are being treated.
Standing out in a trade show doesn't only mean grabbing the attention of your prospects. It also means getting them to remember you after the show.
Here are 9 ways to stand out at a trade show.
1 – Dress like a team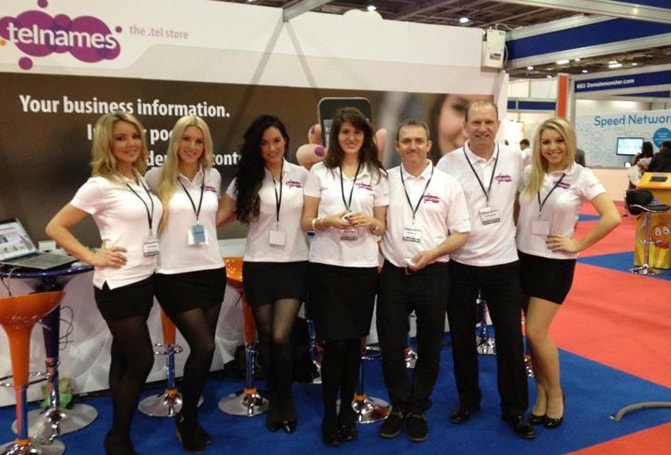 A study on employee uniforms by the University of Nevada, Las Vegas found that they significantly boost brand recognition and customer satisfaction, both of which are often common exhibiting goals. You want your uniforms to stand out and be on-brand. You don't want to wear pink singlets just for the sake of grabbing attention.
2 – A picture is worth a thousand words, a video is worth a million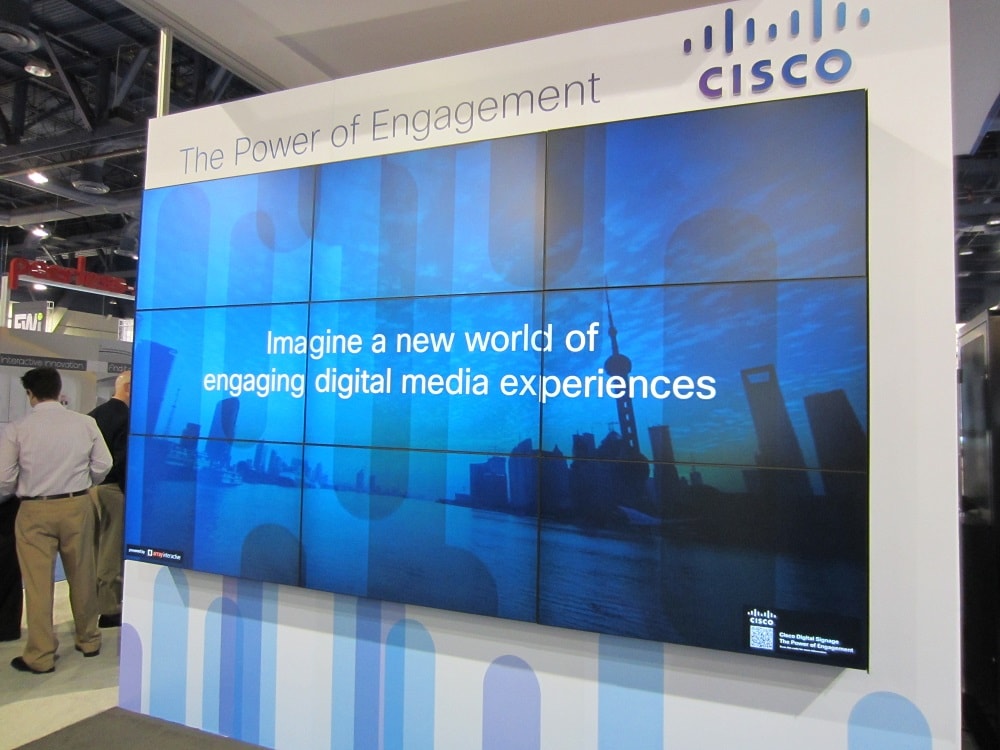 A video is almost like another booth staff that is constantly pitching to your prospects. This means that if all your booth staff is busy attending to current prospects, potential prospects can watch the video first while waiting. Some prospects also prefer watching a video to learn more about what your company can do for them first.
A video doesn't specifically have to be used for a trade show only. One of the best things about videos is they can be used on your website, Facebook, YouTube and future marketing campaigns. However, don't create a 10-min long video. No one is going to stand there and watch a 10-min video. If the video doesn't tell the prospect "What's in it for them" within the first 30 seconds, they're gone.
3 – Invest in a great exhibition stand
If you want to stand out in a trade show, a pop up display won't do the job because most likely other exhibitors are using the same thing.
You would either have to go with a custom stand or a modular exhibition stand (which we recommend because it is like a custom stand without the custom stand's price tag).

4 – The way to a prospect's heart is through his stomach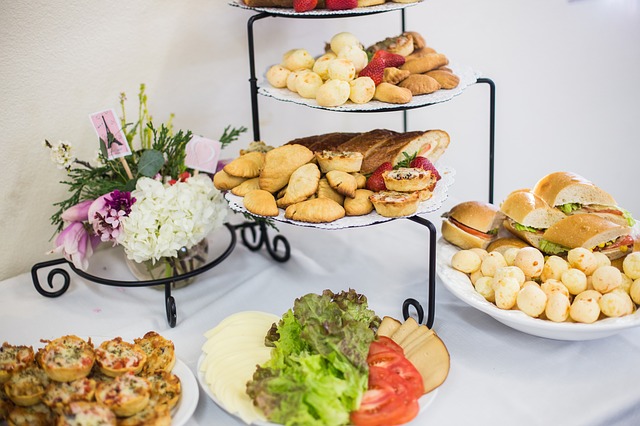 Nothing attracts prospects like food. Free food.
Before using the free food strategy, you want to select the ones that can be consumed in one or two bites and don't require any cutleries or plates. Finger food is your best bet as trade show food. Make sure to double-check on whether food is allowed in the show.
This strategy also gives you and your sales team time to build rapport with your prospects.
"I've got only two words for businesses that want to stand out at trade shows: free candy," says Tony Alfidi, founder of Alfidi Capital. "I put out bowls of free candy the first time I ever exhibited at a trade show because human beings love freebies. The time it takes for a prospect to stop, grab a treat, unwrap it and put it in their mouths is enough time to give a 30-second elevator pitch about a product or service."
5 – Guerilla marketing tactics
One of the most famous guerilla marketing tactics was by WePay, an online payment service provider.
They dropped a 270kg block of ice filled with $100 bills at Paypal's developer conference.
This is to make a statement that unlike Paypal they don't freeze your money. One minute after dropping off the massive block of ice, WePay employees were confronted by security.
Other than being confronted by security, what were the results of this stunt?
300% increase in weekly traffic
225% increase in signups
Thousands of free press from TechCrunch, Reddit and HubSpot and millions of brand exposure over Facebook and Twitter.
WePay was recently acquired by JPMorgan for an undisclosed amount but the Wall Street Journal reported the price is above $220 million.
You can read the full story here.
6 – Mascots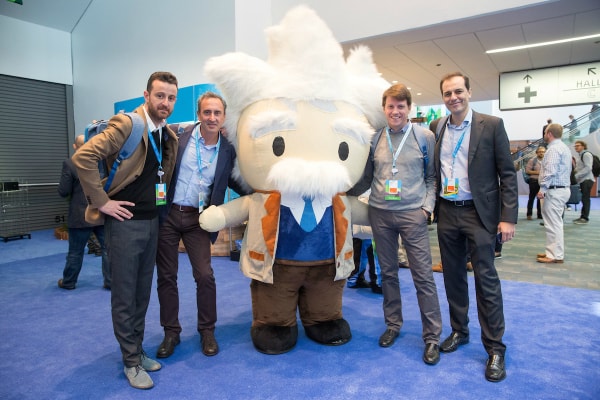 Salesforce's Einstein mascot to promote their new AI technology.
In terms of grabbing attention, mascots will do a much better job than booth models. You will be able to notice a 6ft chicken mascot from across the exhibition hall than you would a booth model.
To stand out at the 2017 Natural Products Expo West trade show in Anaheim, Jess from Red Duck Foods decided to cruise around the entire complex in a large red duck costume, danced by myself at the main bandstand and posed for photos along the way.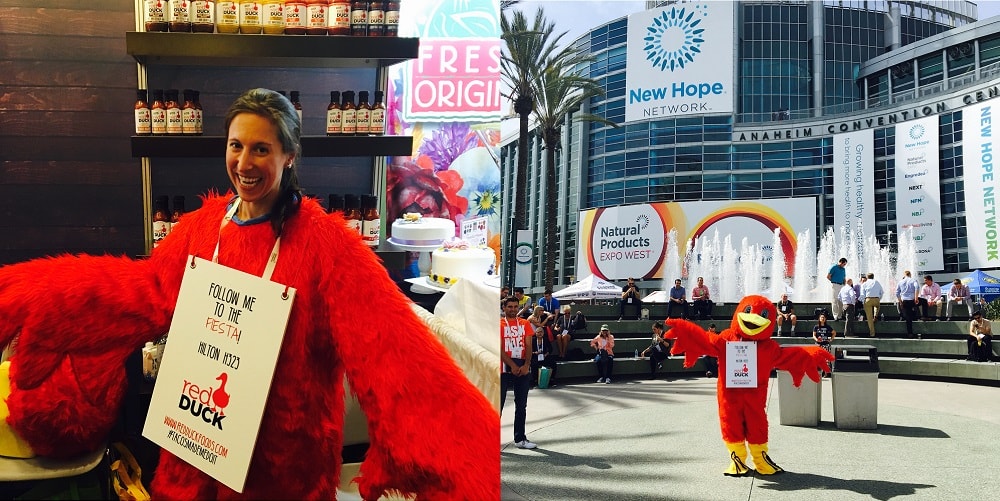 But in addition to having some fun in the duck suit, the Red Duck team put a lot of effort into creating a booth designed to reflect their Pacific Northwest roots and to try to attract as many passersby as possible. The dark wooden plank backdrop is a nod to their timber-rich home and stands in nice contrast to the bright red logo.
The booth was also designed to include a merchandising area where Red Duck condiments line the shelves so that retailers can imagine just how awesome the products will look in their own stores!
Or you can bring real-life animals like what this company did.
"Two years ago, we partnered with the local zoo to bring two penguins to our trade show booth. People crowded around our booth from the moment the show began. We handed out penguin-themed flyers and penguin stress balls. People still remember it!" – Jesse Lear, VIP Waste Services
7 – Do better giveaways
The most common giveaways are pens and mugs. Everyone is giving out pens these days. You want to be giving out something unique, relevant to your brand and useful to your prospects. Brochures being the best example here. They tick all the three criteria:
They are unique to your brand
They are relevant to your brand
They are useful to the prospect
Prospects will also judge the quality of your brand and products by your brochures and compare it to brochures from different companies.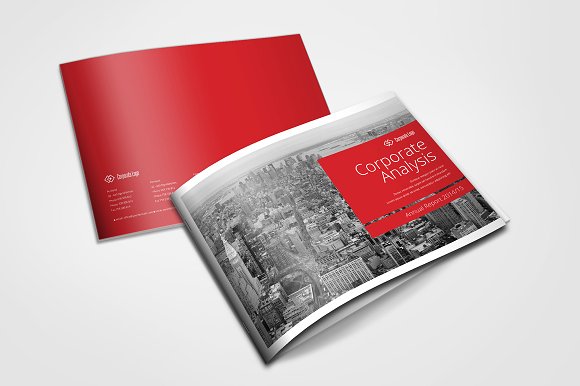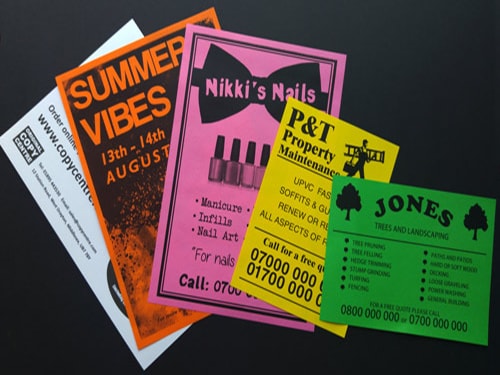 Do you trust the company on the left more or the companies on the right?
8 – Location, location, location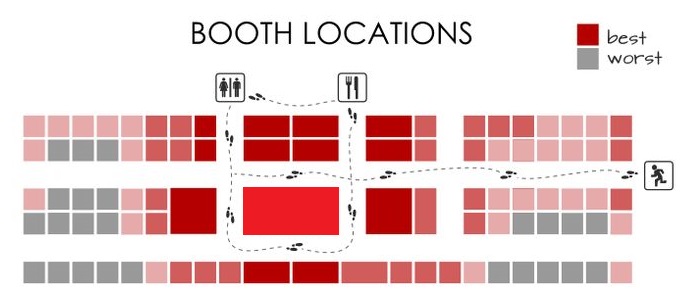 A strategically-located booth can be the difference between bringing in 200 new leads vs 20 leads. Generally, the best booth locations are the ones near the entrance, at intersections with multiple traffic flows and near interest points such as cafe and restrooms.
You can read more about selecting the best booth location here.
9 – Nothing attracts a crowd like a crowd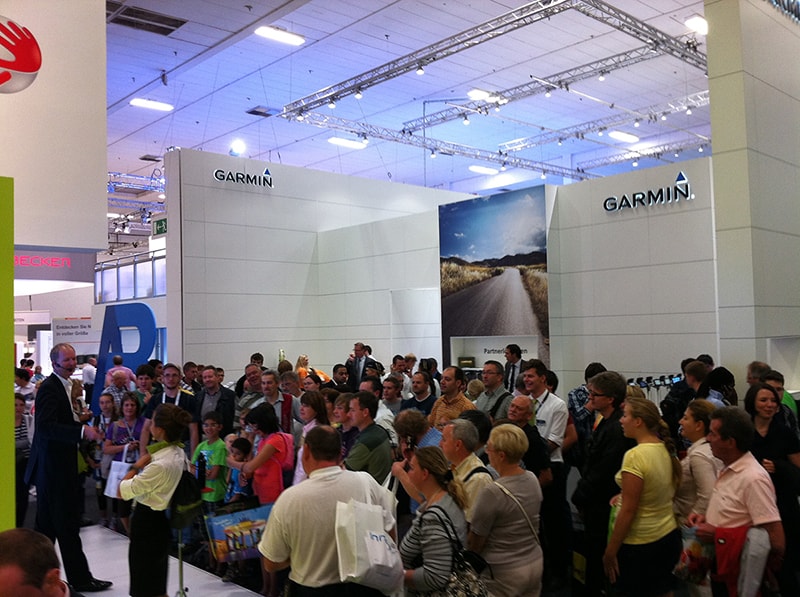 Nothing attracts a crowd like a crowd.
Imagine if you're a tourist in New York looking for the best hot dog stand. You see one with a long line and the one without any. Which do you think serves the better hot dog?
The hardest part is attracting the first group of prospects that will, in turn, attract the next and the next.
One of the best ways is to contact your existing clients and schedule meetings with them throughout the show. This gives you a constant flow of activity at your booth throughout the show. The second benefit is it strengthens the relationship between you and your existing clients which are essentially your most valuable clients.
Bottom line
Dress like a team
A picture is worth a thousand words, a video is worth a million
Invest in a great exhibition stand
The way to a prospect's heart is through his stomach
Guerilla marketing tactics
Mascots
Do better giveaways
Location, location, location
Nothing attracts a crowd like a crowd
Our range of exhibition displays