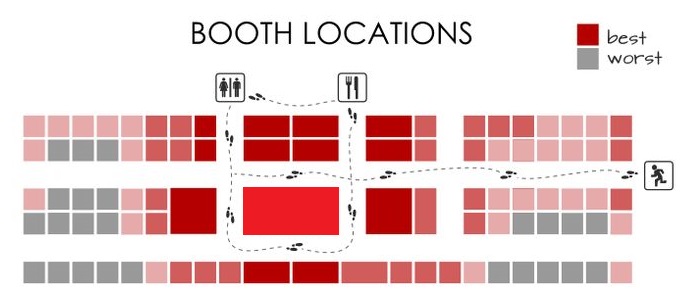 Summary
Location, location, location. That's what everyone is saying not only in real estate but in trade shows as well. However, where is the best location?
Is it right at the entrance with the most traffic?
Is it right at the back where it is quieter?
Is it right next to the biggest and flashiest booth?
Is it right next to your competitors and let them do all the marketing while you steal some of their traffic?
In this post, we'll cover the best and worst areas you can place your booth.
1. The entrance is NOT your friend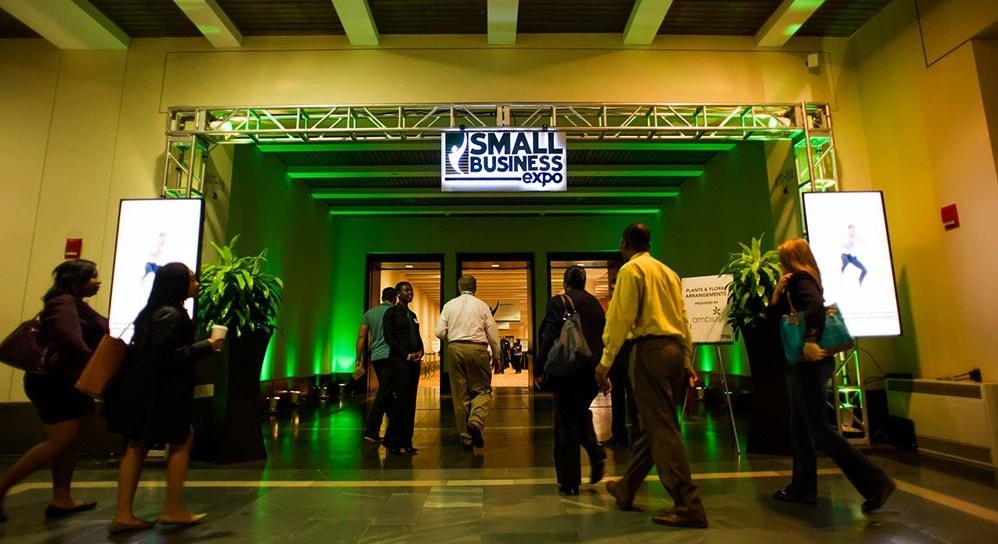 A booth right at the entrance might get you the most views because every attendee at the trade show will walk past it. However, in this case, the more attendees who walk past your booth doesn't necessarily increase your chance of striking up a conversation.
Here's why.
The entrance is the area with the most traffic flow. However, they are notoriously crowded and chaotic. With the amount of traffic flow within that area, attendees might find it uncomfortable to stand at your booth to get more information about your product or service. Their goal at the entrance is to get to somewhere quieter ASAP before they start browsing around.
There is a fine line between a high-traffic area and an area with full-on congestion.
2. But be close to the entrance
The entrance is not your friend but a spot near the entrance is a much better location. After entering the exhibition area, attendees will have a chance to relax and are ready to start exploring the show. If your booth is near the entrance, your booth might be the first they will see and that is when you want to grab their attention because that is when their engagement is the highest.
You also don't want to be too far away because the further away you are from the entrance, the less engaged the attendees will be. The more time they spend in the exhibition, the less engaged they become.
3. Intersections with multiple traffic flows (Corners, cross junctions)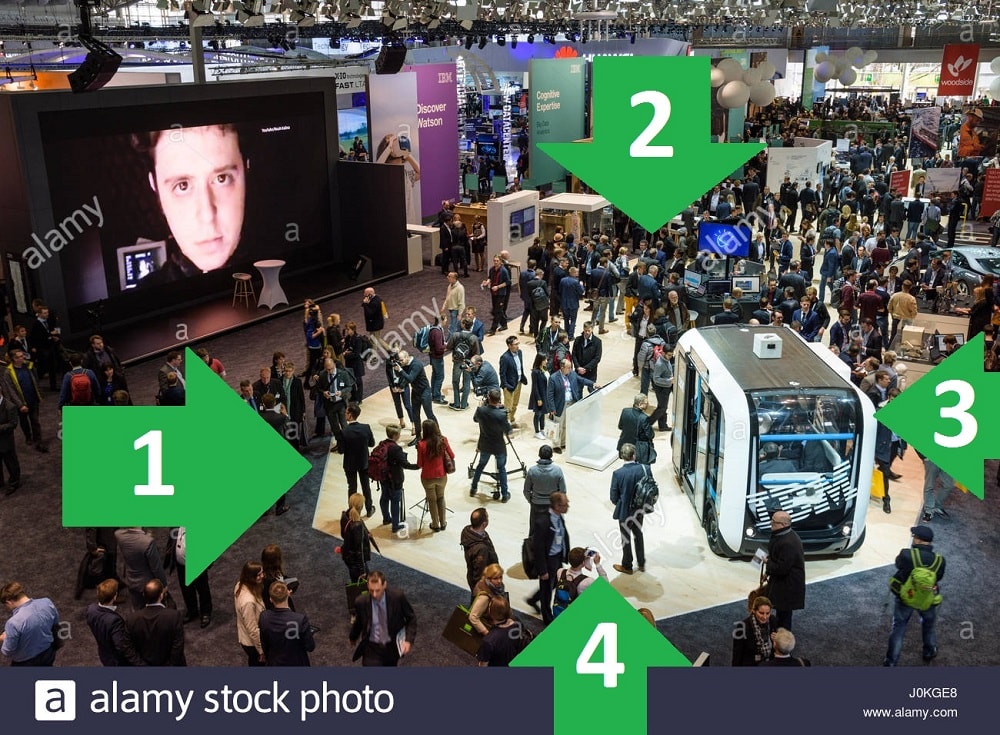 Another great booth location is intersections. These are areas with multiple traffic flows which gives you multiple opportunities to grab their attention and start a conversation.
To maximise your result, open-style booths will perform very well here as they allow attendees to engage with your booth from multiple angles as opposed to having only one entrance which might lead to a bottleneck.
4. Left or right
Do you want to have a booth on the left side or right side of the exhibition hall? This is one of the most overlooked factors when choosing a booth location.
Studies have shown that trade show attendees in countries where the driver is on the left start on the right side of the exhibition hall. On the other hand, countries with drivers on the right are more likely to start from the left. Since we are in Australia, the best option is to go for the left.
As a result, locating your booth in the area where they are more likely to start gives you a huge competitive advantage over the other booths in the trade show. Remember, you don't want to be on the other end of the exhibition hall because the longer they are in the trade show, the less engaged they become.
5. Be where the perks are such as cafe and restrooms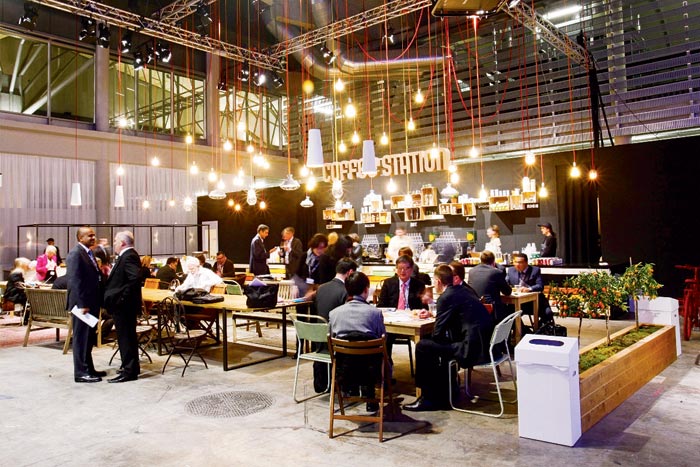 Being close to a cafe and restrooms are also great locations for your booth because there will always be attendees around those areas.
Not only do these areas provide lots of traffic, but they also provide lots of opportunities with highly engaged attendees. Attendees who are hungry are the least engaged while attendees who have just "refilled" are more engaged.
Subjective booth locations
6. Leverage big brand names and sponsors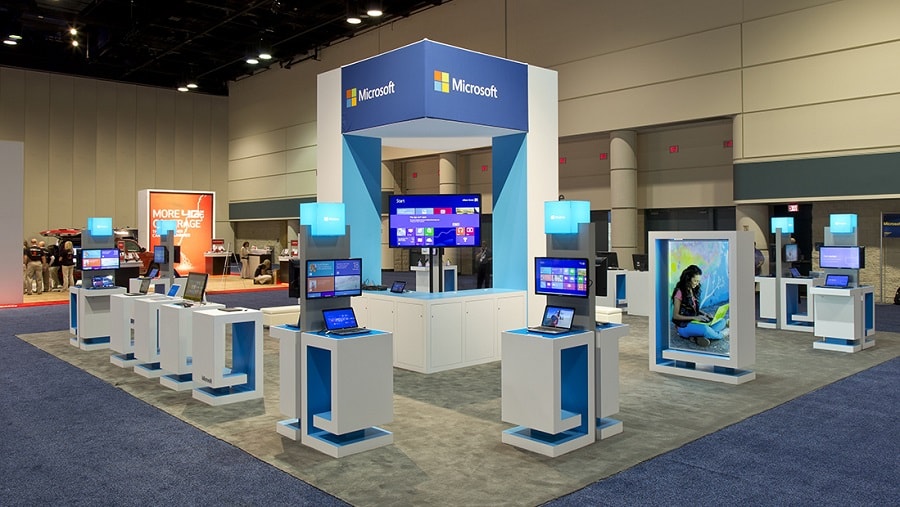 Being next to big brand names and sponsors is equivalent to hanging out with the cool kids at school. They make you look cool as well. You won't be the coolest kid on the block but you will get a percentage of the attention and traffic they are getting to their booth.
Big brand names and sponsors are also more likely to invest in pre-show marketing to bring more attention and attendees to their booth. A percentage of these attendees will also "flow" through to your booth. Essentially, you are leveraging off their brand and marketing.
Brody-Waite, CEO of a health-tech company has the same perspective. He likes to secure a booth near flashier ones that will likely attract a lot of traffic. If another company is doing the heavy lifting to get people in a certain area, why not capitalise on it, he says. Read more about pre-show marketing.
On the other hand, Maureen Burke, a senior account director of an event marketing company recommends avoiding having a small booth next to an extravagant booth with lots of signage and activity. She said this can distract your potential prospects from your brand, message, and product.
7. Being close to competitors

Having a booth next to your competitors is a double-edged sword. It can go either way.
The situation where it will go really well is when your booth is flashier and more extravagant than theirs. Your brand and products will be perceived to be of higher quality and more trustworthy than a company whose booth consists of a pop up display paired with a trestle table and a printed tablecloth over it.
If you think you won't be able to compete with them, some distance away from your competitors will be a smart move. Before committing to a location, it is wise to research competitors who have attended prior events and check out their booths. Don't hesitate to ask exhibition organisers about the companies who have reserved booths around your target location too.
Recap
Avoid the entrance.
But be close to the entrance.
Intersections with multiple traffic flows (corners, cross junctions).
Left or right.
Be near the perks (cafe, restrooms).
(Subjective) Be right next to big brand names and sponsors.
(Subjective) Being close to competitors.
Our range of exhibition displays