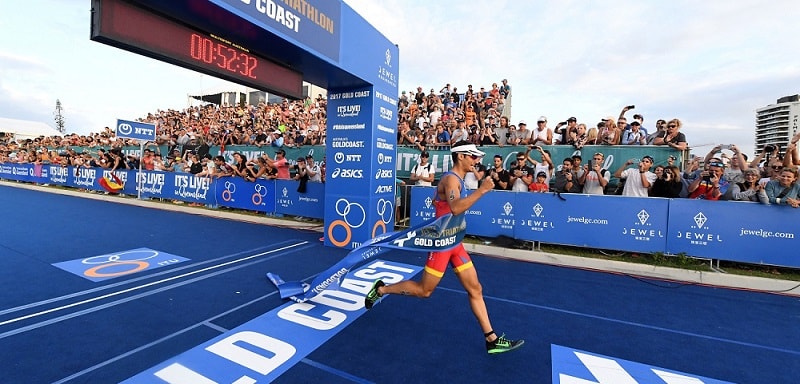 When it comes to creating a world-class event experience, everything bit counts – the atmosphere, the AV, the lighting, the venue, etc.
One of the biggest things event planners overlook during the planning process is the signage. The reason why signage is often overlooked is that they are invisible to people who don't know signage. The signage is there and everyone can see it but most people don't realise that it is a signage.
When they see a well-designed and installed signage, their first reaction is "This event feels organised and professional." Their reaction won't be "That corflute signage is designed and installed very well."
Event with Signage vs No Signage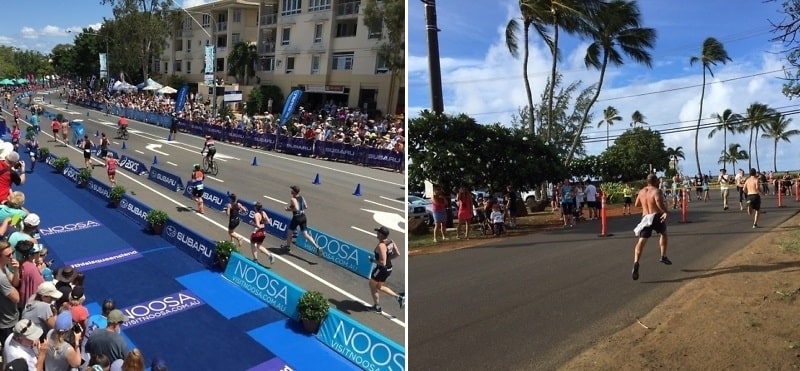 Take a look at the image below showing two running events. One with signage and one without any signage.
Can you feel the difference in the environment between the two events?
In this post, we'll cover eight of the most popular signage that you can use in any event.
1. Media Walls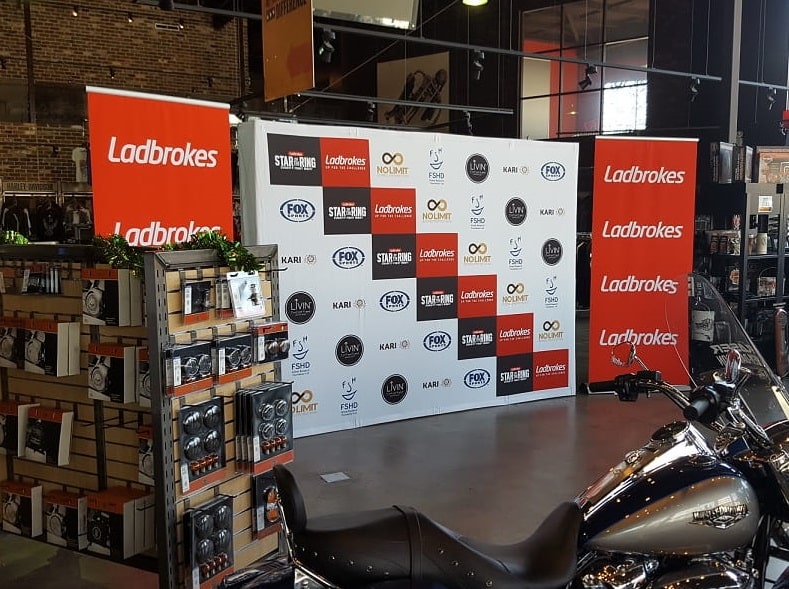 Media wall is one of the most popular signage in any event. You see them in almost any red carpet event and press conference. People stand in front of these walls covered with logos to talk to journalists and have their photograph taken while at the same promoting the brands and sponsors of the event.
There are a few types of media walls. The most common is the pop up display. These pop up displays are easy and simple to set up and they are affordable. The disadvantage is the limited size. The biggest media wall you can get with a pop up display is 4.5m in length and 2.2m in height.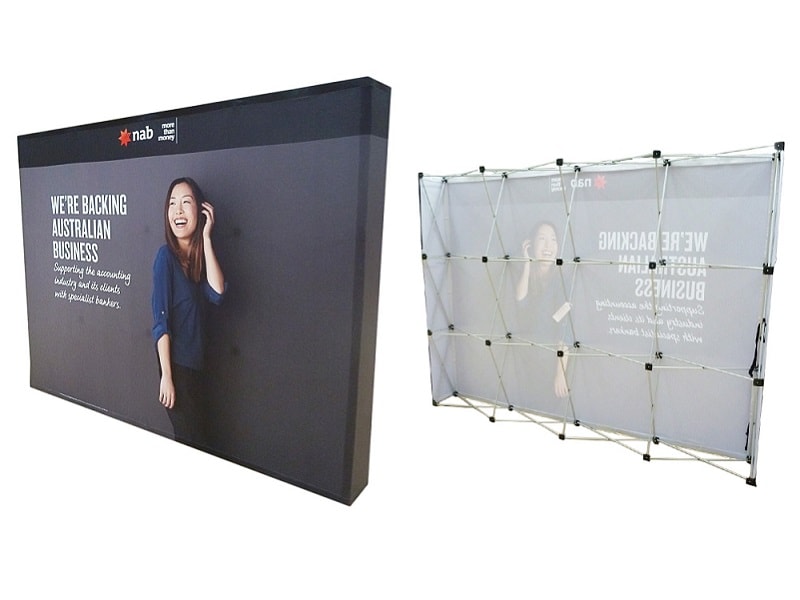 If you are organizing a large event and you require a longer media wall, a modular display system like a TRIGA system would be the ideal solution for you. These modular systems can be used to build a wall as long as you desire.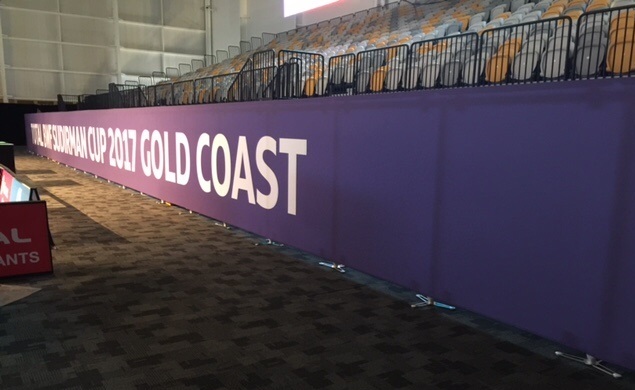 2. Corflute Signage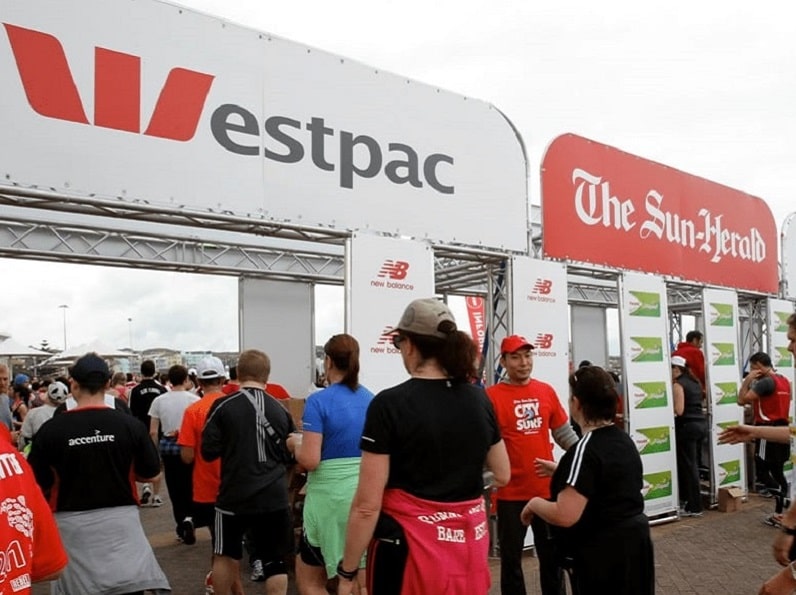 Corflute sign is another popular signage used in events. Corflute is a type of rigid board and there are multiple types of boards such as PVC, aluminium, wood, etc. The reason why corflute is so popular is that it can be used both indoors and outdoors plus it is affordable.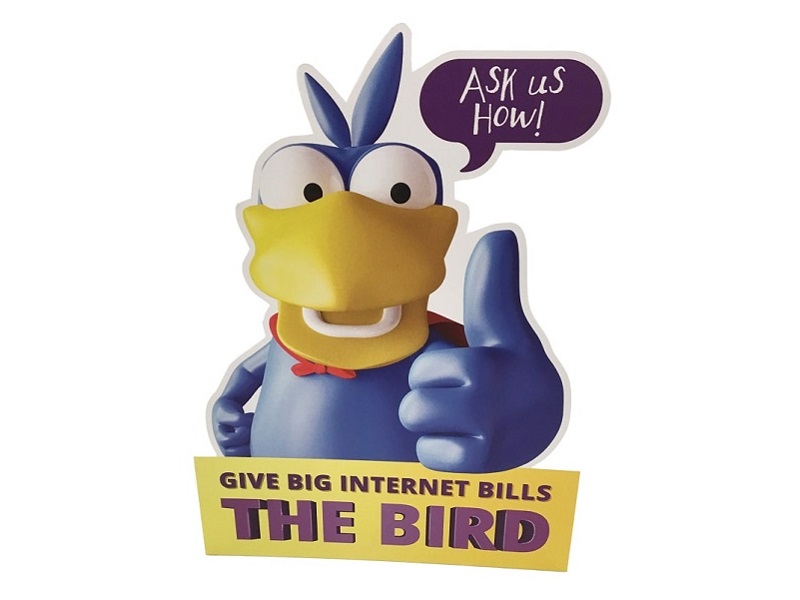 The second reason why corflute is a popular event signage is that it can be die cut into any shape you desire – circle, square, your logo, a bird, or even Donald Trump.
3. Pull Up Banners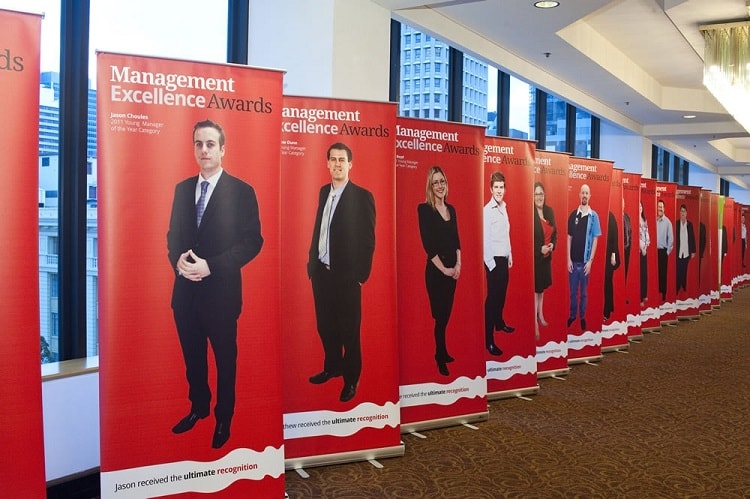 You will never go wrong with a pull up banner. It is so versatile that even if you didn't need it for your event, you can still use it for other occasions such as a trade show or in your office to greet guests.
Another reason why the pull up banner is so popular is that you can transport it to your event in your car. You don't need to pay a logistics company to transport it for you.
One thing to be aware of is the wider pull up banners that are over 3m wide. You wouldn't be able to transport them in your standard sedan. Just to put this into perspective, the body excluding the engine and the boot of a Toyota Camry is around 2.8m long. You would need a vehicle longer than 3m to transport a 3m pull up banner.
The most common pull up banner widths are 0.8m, 1.2m, and 1.5m.
4. Teardrop Flags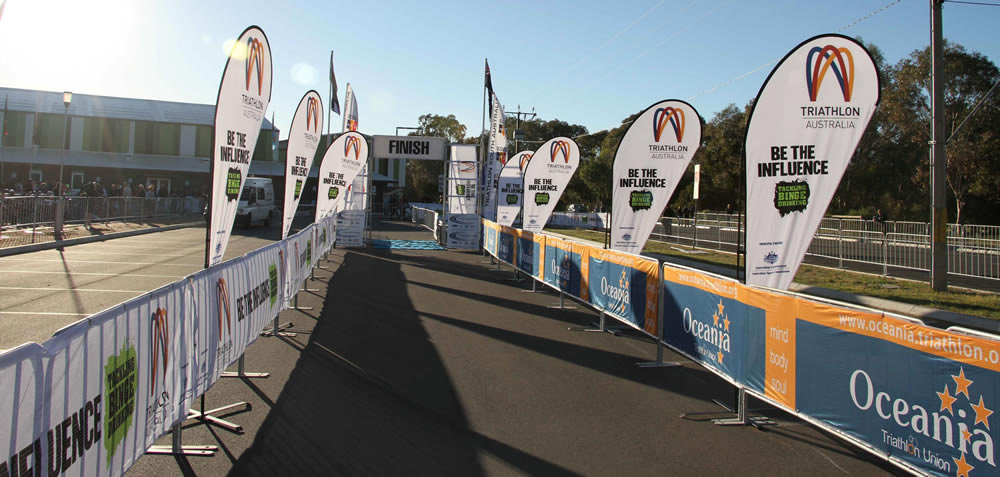 The fourth signage we'll cover is the teardrop flag. You will see these in almost any major outdoor event.
When you need something that is tall, grabs attention, adds energy to an event, and most importantly can be used outdoors, the teardrop flag is your go-to signage. You can't use a pull up banner outdoors because a gust of wind will just blow it over. Another similar alternative to a teardrop flag is the feather flag. The key difference between a feather flag and a teardrop flag is the shape of the flag.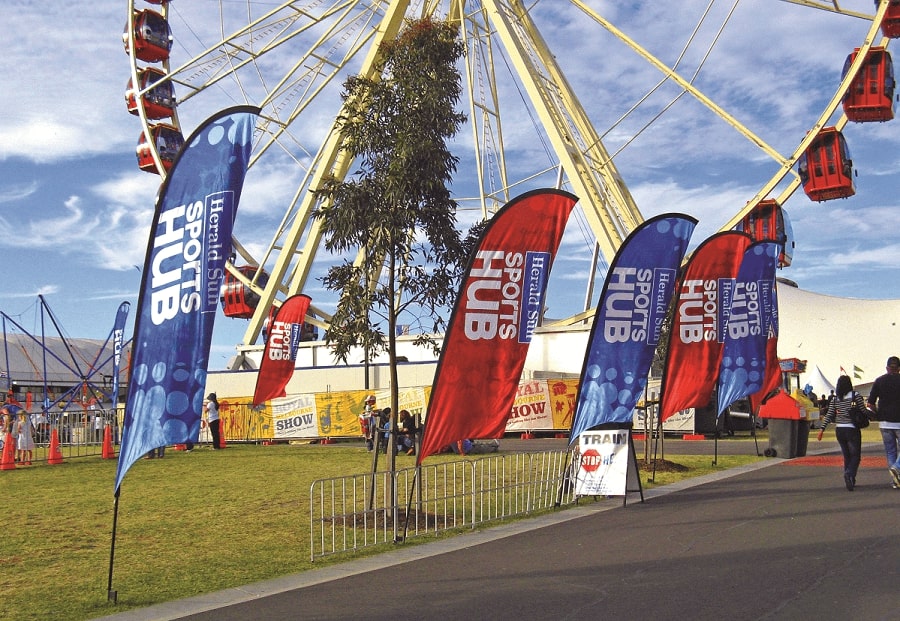 One of the most important things to consider before purchasing teardrop flags for your event is the base. There are spike bases, cross bases, wheel bases, and flat bases. If you are looking to place your teardrop flag in a field or lawn, get the spike base. If there is no lawn, get a cross base with a water weight bag to hold the flag down.
5. Floor Decals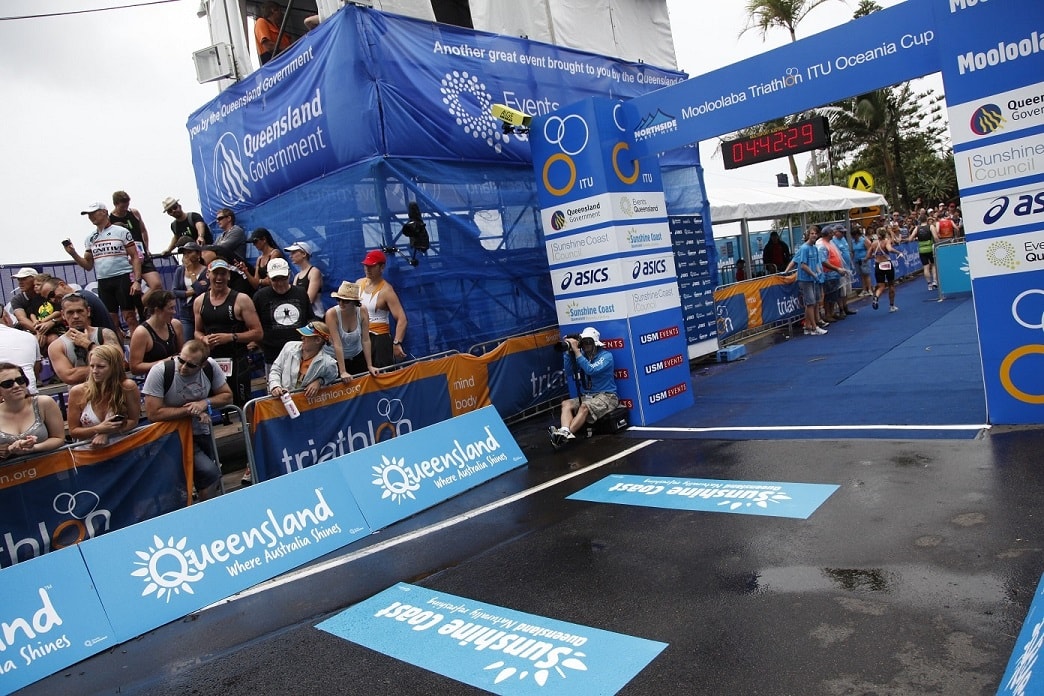 The fifth signage we'll cover is the floor decal. Decals are commonly used on retail windows. However, an increasing amount of decals are being used on floors. Floor decals can be used to stick to multiple surfaces such as carpet, road, laminated flooring, tiles, etc.
In an event, floor decals are mostly used as directional signage. These directional signage becomes more useful for larger events when more attendees are present. The goal of these signage is to reduce the traffic bottlenecks and confusion among attendees by directing them to wherever they want to go.
One critical thing to make sure of is whether the decal is non-slip. You don't want people slipping and injuring themselves during your event.
6. Crowd Control Banners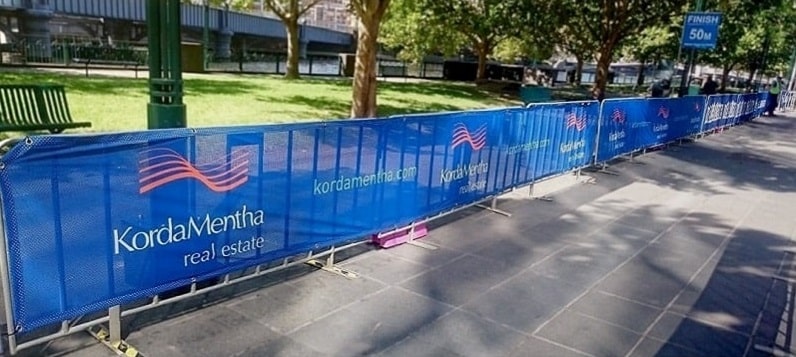 Crowd control banners or CCBs are common in sporting events, red carpet events, or any event setting where there is a huge crowd hence the term "crowd control". Crowd control banners are essentially banners that go onto crowd control barricades.
Most events don't brand their crowd control barricades which is a huge missed opportunity because these crowd control barricades take up a large amount of space in an event which are essentially free advertising spaces.
Here is an example of a barricade without any branding.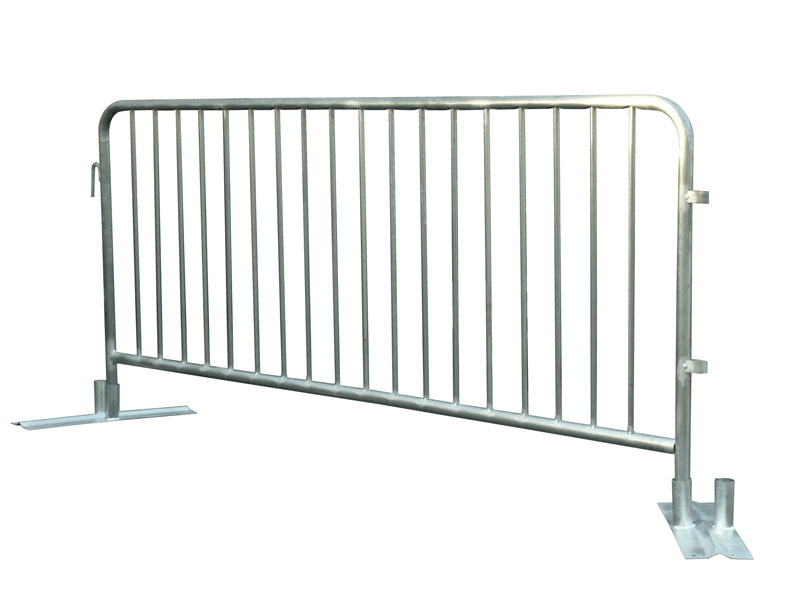 The banners used on a barricade are generally printed on either polymesh or vinyl mesh. The holes in the mesh allow the wind to blow through the banner which reduces the wind loading. Too much wind load onto the barricade may cause the barricade to collapse.
7. Street Flags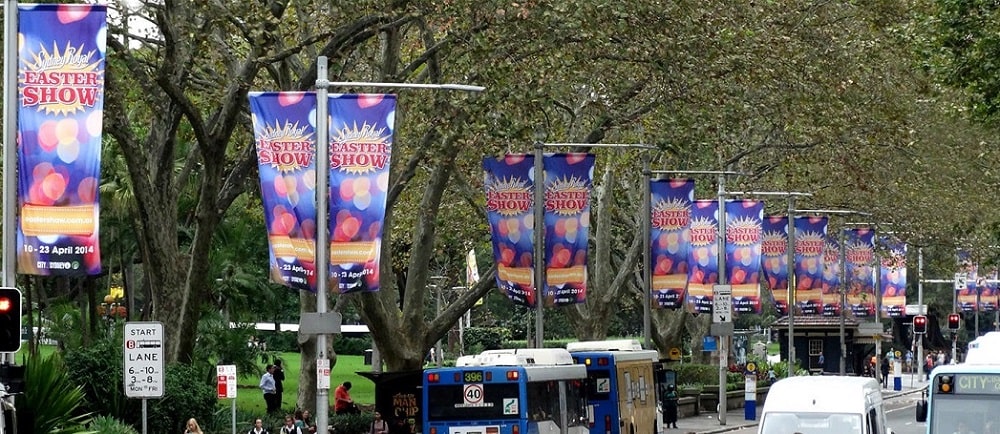 Street flags are flags attached to street light poles. Everyone has seen these flags before except they don't realise it is a street flag. These street flags are generally used to promote an event or a festival.
8. Digital Signage
What is a post about signage without talking about digital signage? Digital signage has been all the rage in the signage industry right now and rightfully so. Everything around us is transitioning to digital. Our invoices, our letters, and even our cash.
The advantage of digital signage over traditional signage is you can show multiple graphics on a single screen and most importantly, those graphics can be interactive.
A digital signage can be used to provide information and direction to attendees during the event. This can result in huge cost savings compared to hiring staff members to perform the same tasks.
Summary
Creating a world-class event isn't easy. There are multiple components that go into organising an event such as the AV, the lighting, the venue, and the signage. The majority of people don't recognise the importance of the event signage because the signage has been incorporated into the event venue itself which is a result of good design, printing, and installation.
Today, there is enough signage to choose from to cover every single cm of your event venue. The signage we covered in this post are:
Digital signage
Every world-class event has signage.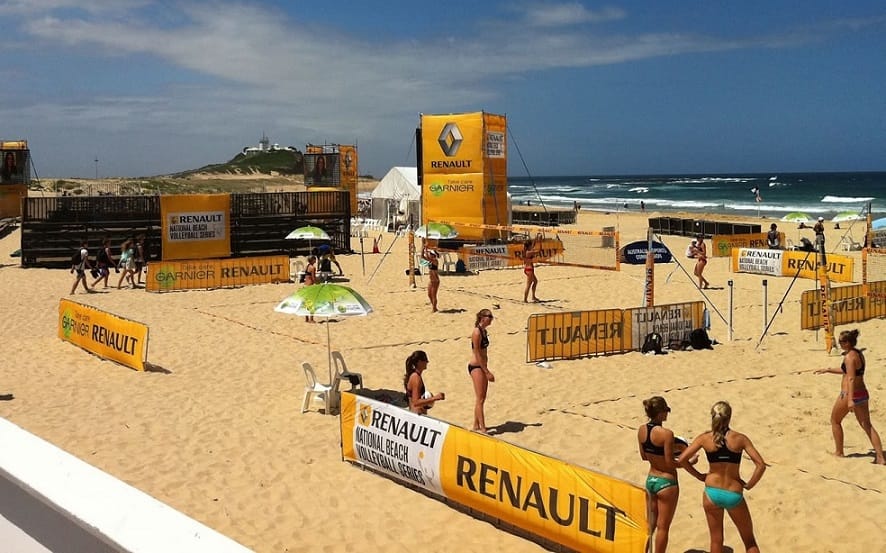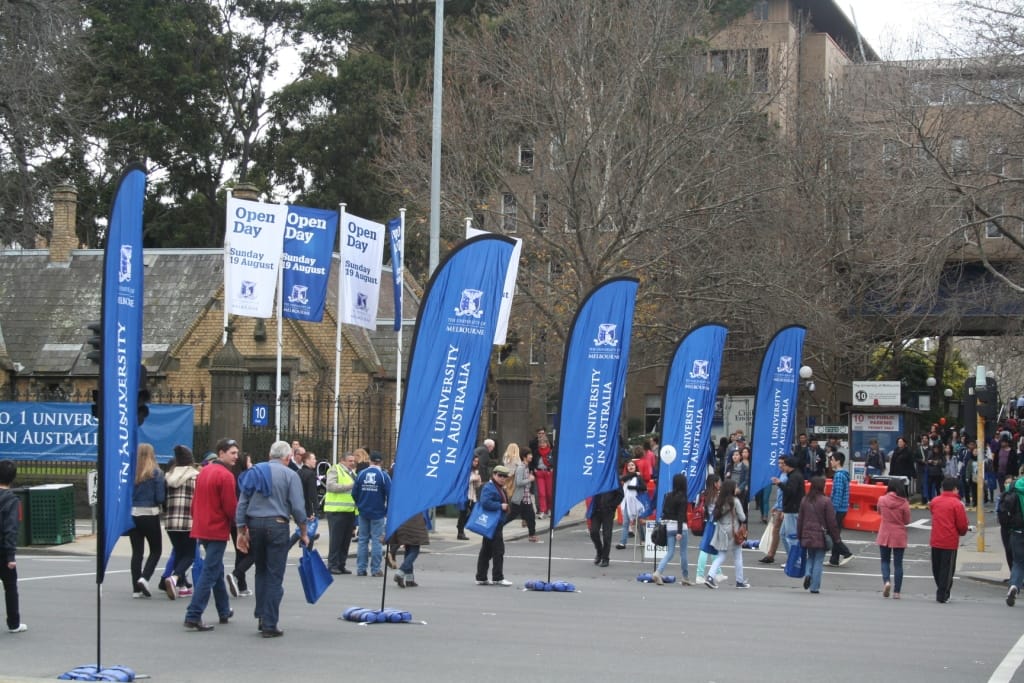 Remember this photo at the start of this post?