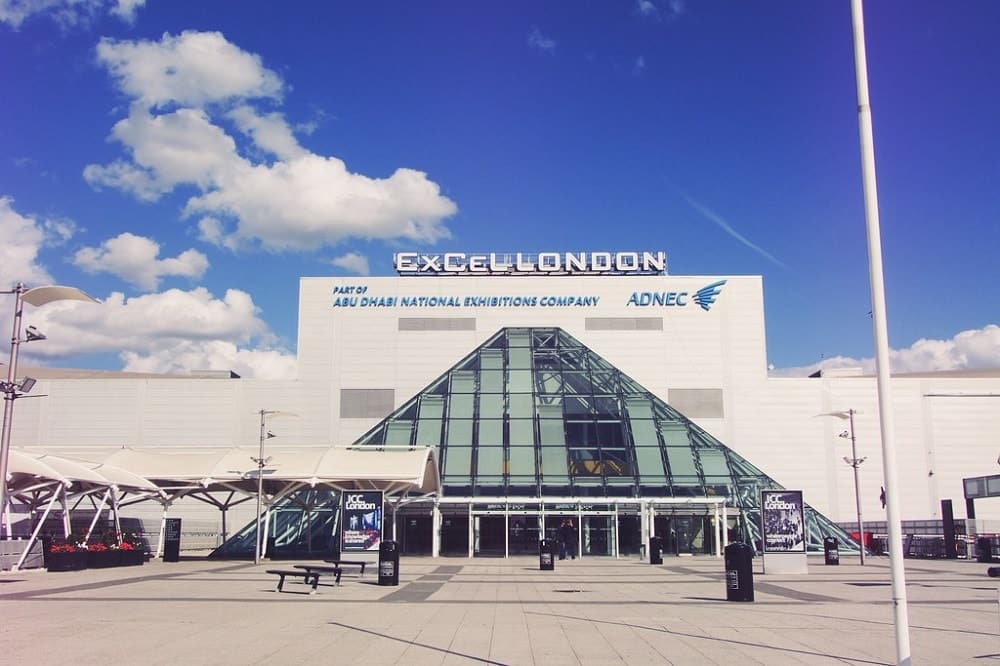 Every year, hundreds of thousands of international business decision makers travel to events in London, Manchester, Birmingham, Liverpool, and Glasgow to get a glimpse at the latest innovations in their industries. The UK is home to some of the largest and most popular exhibition venues in Europe. In fact, the UK is ranked #9 in terms of exhibition space sold in the world.
Exhibitors are attracted to trade shows that offer social value in terms of networking opportunities and branding. With the third-largest population in Europe and the second most widely spoken business language, exhibiting in the UK is quickly becoming an essential component in the marketing mix.
Whether you are exhibiting, attending or planning an event it is a good idea to get to know the venues. These are the top five exhibition venues in the UK.
1. ExCel London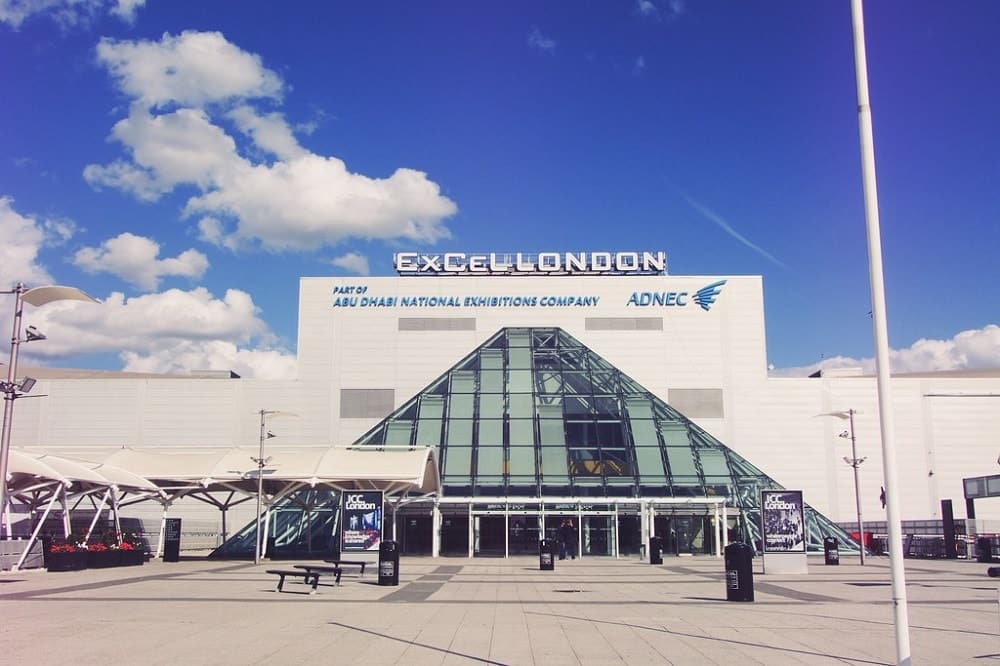 More than just an exhibition venue, ExCel London offers visitors the chance to experience London in a unique way.
Renowned for their forward-thinking sustainable business practice, the venue compromises large, multi-purpose event halls and smaller conference and meeting rooms to suit any event's needs. ExCel London boasts a huge capacity of almost 70,000 visitors, making it one of the UK's largest and most in-demand venues.
Getting there
The venue's riverside location means you can access this venue by train, bus, car, underground, boat, and air. London has four international airports, connecting to over 396 international destinations. All this makes ExCel London an easy venue to reach.
What's on?
As one of the UK's most popular venues, ExCel London hosts a range of events attracting international exhibitors and decision-makers from several key industries. Some of the largest exhibitions hosted at ExCel include:
BETT 2020
VidCon London
Cloud & Cyber Security Expo
Oceanology International
Where to Stay
There are twelve hotels located within a fifteen-minute walk of ExCel London at an average cost of £150-£250 per room per night.
Where to Eat
There are twenty-seven bars, cafes, and restaurants located on-site at ExCel London – plenty for you to choose from. If you want to explore more of London, a trip to Flat Iron steakhouse is the way to do it. Less than an hour away by tube, the restaurant offers great value for money in a picturesque location!
What to do
There is so much to do in London that it is impossible to say, however, if you are visiting ExCel London there is one thing you must do! The Emirates Airline Cable Car runs from ExCel London to the O2 and North Greenwich tub station. It is the UK's first urban cable car, offering you one-of-a-kind views of the River Thames and the London skyline.
2. Olympia London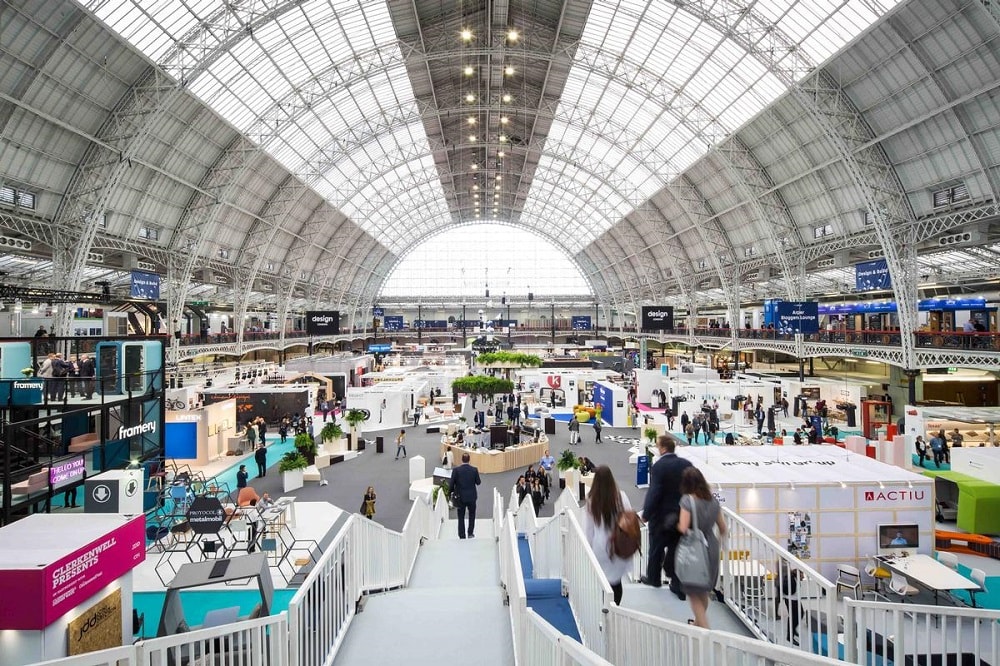 Olympia, located in London, opened its doors to the public on Boxing Day 1886. Now it is the chosen venue for over 200 international industry events.
The charming architecture, open multi-functional space, and huge capacity make Olympia a sought after spot for event organisers. The site was previously used as a vineyard, and with so much on its doorstep, it is possibly the best location for an exhibition venue in the UK.
Getting there
Olympia's central location makes it easy to access by public transport. There are six bus routes, three underground stations, and two overground stations that are within a fifteen-minute walk. As a sustainable event organiser, the venue encourages visitors to get there via public transport, foot or cycling.
What's on?
With such an ideal venue and location, it is no wonder so many event organisers choose to host their exhibition here. From small consumer shows to international exhibitions, Olympia is home to a variety of events including:
The Toy Fair
Transport Ticketing Global
Pub20
The Vaper Expo
Travel Technology Europe
Where to Stay
There are over one hundred hotels within a 2km radius of Olympia London, meaning you'll be spoilt for choice. The average room rate is £50-£120 per person per night.
Where to Eat
With so much on your doorstep deciding where to eat will be a tough decision. Beaconsfield is a cosy British pub located five minutes from Olympia serving classic pub grub as well as local beers and spirits. L'Elysee is an artisanal café, great for a spot of lunch or a pre-show breakfast. Both of these eateries offer great dining alternatives to what is available at the venue.
What to do
Hyde Park is one of London's largest Royal Parks and is located a few minutes down the road from Olympia. At 7km long, it is a great location to stretch your legs and get some air – which is always necessary over a busy exhibition period!
3. NEC
With a total floor space of 182,000m2, the NEC Birmingham is the UK's largest exhibition venue. It attracts 3,000,000 visitors each year and boasts over 500 shows and events annually. With statistics like this, it is safe to say trade shows will continue to exist in 2030.
With the ideal combination of spaces to host exhibitions for 10,000+, a total of 18 halls, and an additional 32 conference and meeting studios – any industry event is well catered for. The location is ideal for visitors, with a spa, casino, and shopping center located right next door.
Getting there
Birmingham is located in the midlands, meaning it is easy to access from anywhere in the UK or internationally. Three-quarters of visitors live within a 3-hour drive of the NEC as its connection to the M6 and M42 make it easy to drive to.
Birmingham Airport is a 90-second speed train away from the NEC and connects the venue to over 143 destinations directly. You can also travel by train with the journey taking just over an hour from London or under ten minutes from Birmingham.
What's on?
With that many events, you're highly likely to find an event relevant to your business and industry happening at NEC. They host a number of events, from long-running well-established exhibitions to brand new trade shows launching for new markets. This year, the NEC is hosting:
The Caravan, Camping and Motorhome Show
Spring Fair
Packaging Innovations
Hemp & CBD Expo
Where to Stay
The recently built Moxy Hotel is perfectly situated between the NEC and the lake. Opened in January 2020, the brand new hotel offers 224 bedrooms within a short walk of the exhibition venue.
Where to Eat
Resorts World, located next door to the NEC, is full of bars, cafes and restaurants to suit anyone's requirements. Whether it's a quick bite to eat or an evening out – you'll find all the eateries you can imagine within walking distance.
What to do
If you're lucky, there will be a live event taking place during your stay. Resorts World Arena hosts some of the UK's best live music, comedy and entertainment acts. If not then there is always the Santai Spa to revitalise your body after a stressful show or Bear Grylls Adventure for more extreme physical challenges.
4. Manchester Central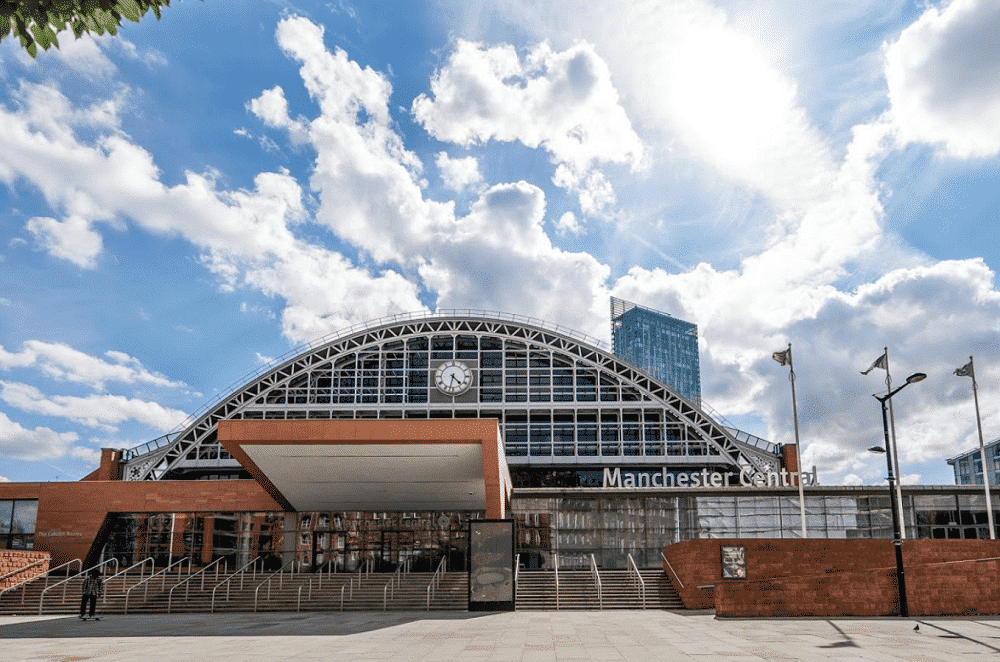 Award-winning exhibition venue, Manchester Central, can accommodate 10,000 delegates per day. With 23,000m2 of versatile space, it is the ideal place to host industry events of any size.
Manchester Central's history makes it stand out from the other venues in the UK, and the remains of the old railway station can still be seen. The multi-functional spaces within the building make it an ideal choice for exhibitions, conferences, or smaller meetings.
Getting there
With Manchester having a local airport with direct links to over 200 destinations and only 20-minutes away from Manchester Central, it couldn't be easier to attend an event at this venue. There is also a direct train from London Piccadilly or Victoria into Manchester, which is just a short tram ride away from the venue.
What's on?
Steeping in history, Manchester Central hosts a variety of consumer shows, exhibitions and niche industry events. Its location, in the north of England, means it attracts a different audience to the venues down south. Manchester Central hosts events such as:
UCAS Higher Education Exhibition
Digital City Expo
Healthcare Estates Conference & Exhibition
Northern Restaurant & Bar Expo
Where to Stay
There are eleven hotels located within a 10-minute walk of Manchester Central, ranging in budget depending on your needs.
Where to Eat
Manchester Central has partnered with a number of local restaurants to bring visitors and exhibitors special discounts and offerings. Only two minutes from the venue, the Peaky Blinders Bar and Restaurant offers conference badge holders a 25% discount on food on the day of their conference.
What to do
Many of Manchester's amazing attraction is completely free and dripping in culture. Take a wander into the Manchester Museum to learn about the history of Manchester Central. Check out the National Football Museum if sports is more your thing. For a bit of light-hearted fun, you can visit The Crystal Maze Live Experience, Treetop Adventure Golf or Chill Factore.
5. SEC (Scottish Event Campus)

The Scottish Event Campus (SEC) is the first conference centre in Scotland to be recognised with gold charter and has been working with huge industry events since they're opening in 1985.
The venue boasts over 22,500 m2 of multi-functional space and hosts over 50 events each year. Its location, within Scotland's largest city, attracts half a million business decision-makers from all over the world.
Getting there
The SEC is located on the outskirts of Glasgow city centre and has a number of options in terms of travelling to the venue. There are three international airports within an hour of SEC, offering 45 connecting flights from London a day.
The campus also has its own train station and bus stops with public transport serving them on a regular basis.
What's on?
As well as trade shows and exhibitions, the SEC is home to a number of live events highlighting how versatile the space really is. As well as international and European events, SEC hosts events such as:
The Scottish Wedding Show
Scottish Cycling, Running & Outdoor Pursuits Show
The Creative Craft Show
The Gin To My Tonic Show
Where to Stay
Due to the venue's accessibility, several hotels offer easy access to your event as well as a chance to explore the city and the River Clyde. With prices from as little as £29 per night, you'll have no trouble finding a place to recharge after your exhibition.
Where to Eat
Located at the East entrance to the SEC is Clydebuilt Bar & Kitchen, offering bar snacks, pizzas, burgers and sharing platters to diners. For those looking to venture out and explore Glasgow, Rioja is just a short walk away and serves authentic Spanish tapas for lunch and dinner daily.
What to do
There is always a lot going on in Glasgow, which is why it was crowned the UK's top cultural and creative city. You could spend an afternoon at Tennent's brewery, take a day trip to find the Loch Ness monster or hunt for ghosts in the most haunted places in the city. There is so much going on around the SEC, you just have to hope you get time to do it all!
Summary
The exhibition venues covered in this post are:
ExCel London
Olympia London
NEC
Manchester Central
Scottish Event Campus (SEC)
This list features the five biggest and most popular exhibition venues in the UK as well as recommendations on where to eat, sleep and enjoy any time off you manage to grab! If your business is exhibiting at a UK venue, a local stand builder like Quadrant2Design can help you with designing and installing your stand as well as give you advice on the local area.