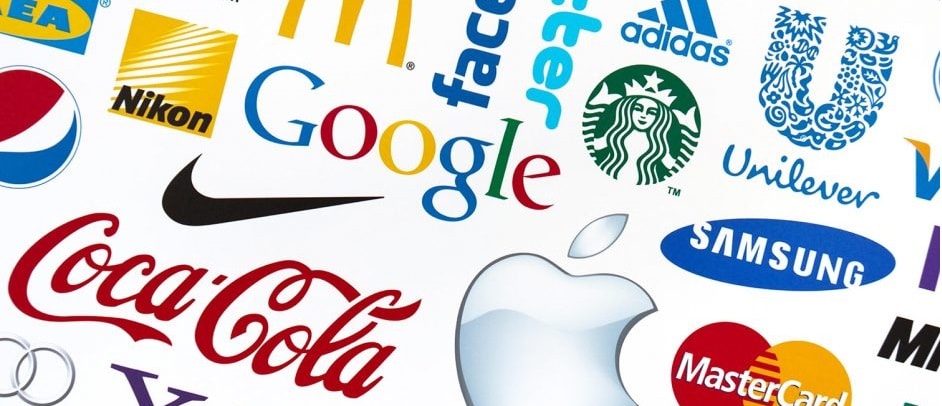 Australian businesses and organisations have always been searching for more effective ways to target consumers with their marketing campaigns. The goal is to ensure their brand pops up in the consumer's mind first when they are ready to shop for a product in their category.
In Australia's competitive landscape, almost every product is getting commoditised. In a commoditised business environment, customers sort products by price. When that happens, the race to the bottom begins. Add products from China on top of that and we have an issue that is far worse.
When customers shop by price, margins get cut.
When margins get cut, profit declines.
Sooner or later, sales start to drop too.
When a business is in this cycle, they are in what we call "Survival mode". Their goal for the next financial year is to survive.
Take a look at Dyson
Here are two different vacuum cleaner brands, Dyson and a replica. Which one do you think is the replica? The left or the right?
Most would know that the right one is the real one. The left one, you can get it from Kogan for $250 less than the Dyson on the right.
Kogan's replica $149 vs Dyson's $399.
The main question now is, will the Dyson brand be enough to influence our decision to choose it over the other?
Here are some of the features on the replica:
Priced at $149 (vs Dyson's $399)
22V of extreme suction power (vs Dyson's 2 Tier Radial V6 Digital Motor)
Up to 30 minutes of cordless vacuuming (vs Dyson's 20 minutes)
Impressively light and manoeuvrable – only 1.4kg
Convert to a handheld vacuum for spot cleaning
7 piece essential accessory pack including a pet brush and universal multi-brush
Which one would you choose? Would you pay $250 more for the Dyson brand?
By looking at the price and those features, the key factor that can influence a customer's decision on paying $250 more for a Dyson is their brand. The brand emphasizes superior vacuum technology than their competitors.
"The greater the confidence they place in the brand, the more likely they are willing to pay a high price for it." – Walfried Lassar, Banwari Mittal and Arun Sharma (1995)
Dyson's competitive advantage is its brand. If Dyson doesn't have their brand, they will lose influence over their customers' purchasing decision.
The power of a brand as a competitive advantage
Which brand or company do you think of in regards to these categories?
Home improvement stores
Supermarkets
Energy drinks
Smartphones
Here are the most common answers:
Home improvement stores – Bunnings?
Supermarkets – Woolies and Coles?
Energy drinks – Red Bull and maybe Monster?
Smartphones – Apple and Samsung?
Home improvement stores in Australia
Over 6,000 independent hardware stores are set to close by 2024 and the number of stores will drop from 20,920 to 14,050 over the next 10 years, according to GDC Advisory forecast.
And with Masters now gone, Bunnings has a much larger market share in Australia's home improvement industry.
This graph shows the approximate number of searches for Bunnings, Mitre 10, hardware stores and home improvement stores. Even the term "Bunnings" itself has more searches than "hardware stores" and "home improvement stores". That is how dominant the Bunnings brand is in Australia.
Supermarkets in Australia
Did you know there are over 2,000 other supermarkets in Australia?
The supermarket industry is a super competitive industry. There are two major players here; Woolies and Coles. Both of them capture almost 80% of all sales in this space.
Other companies with brands as a competitive advantage are:
Disney
Nike
Google
Apple
Coca-Cola
The average consumer usually can name no more than one or two brands
According to Harvard psychologist George A. Miller, the average human mind cannot deal with more than seven brands at a time. Ask someone to name all the brands in a selected product category and rarely will he/she name more than seven. The majority will only name up to two brands.
The higher up the brand in their respective category, the much higher likelihood that customers will buy from them.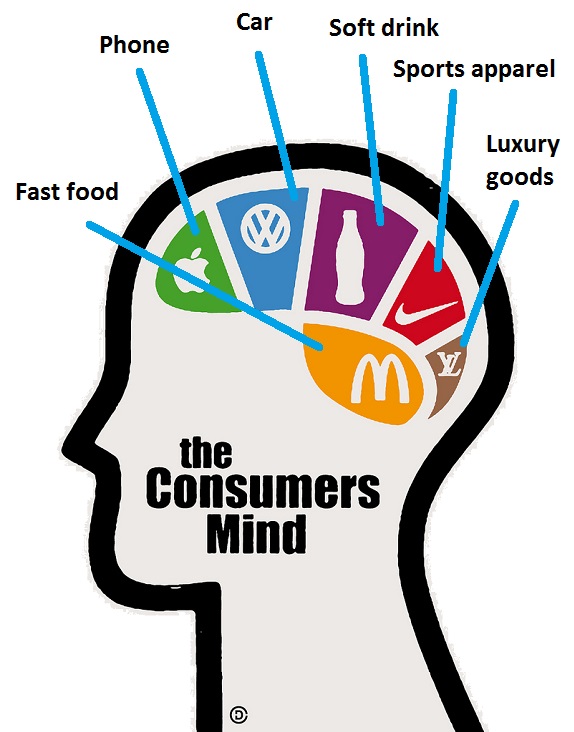 The average consumer usually can name no more than one or two brands.
Competitive advantages and Warren Buffett
A good business is like a strong castle with a deep moat around it. In the investment world, Warren Buffett invests in what he calls businesses with economic moats.
What is a moat?
According to Investopedia, an economic moat refers to a business' ability to maintain competitive advantages over its competitors in order to protect its long-term profits and market share from competing firms.
"…a business' ability to maintain a competitive advantage to protect its long-term (not short-term) profits".
The five types of moats are:
Intangible assets: Brands and intellectual properties like patents and trademarks.
Switching costs: Think of your home internet provider. No matter how terrible their service are, the chances of you switching are low.
Network effects: Think of realestate.com.au. The more properties are on realestate.com.au, the more buyers. The more buyers, the more advertisers.
Cost advantage: Think of mining companies with world-class mines. A mine with a large resource and a low cost of production gives it a cost advantage over its competitors.
Economies of scale: Think of Coles and Woolies. Their huge operations allow them to command better prices from their suppliers which in return will allow them to undercut their competitors.
We will cover moat #1 which is intangible assets (more specifically brands).
"Brands are the single most important and powerful intangible asset in business today." – Mark Crowe, MD of Brand Finance Australia.
"Brands are also more powerful in terms of forging a relationship with the customer which is sustainable and profitable compared to regular unbranded products." – Leslie de Chernatony, author of Creating Powerful Brands.
How important are brands to purchasing decisions
According to a B2B branding survey, price is the #1 factor when it comes to a consumer's buying decisions followed by price. Brand sits at #3 or #4.
Eventhough price is the #1 factor when it comes to purchasing decisions, price is generally not a long-term competitive advantage. Another business can always undercut you. It just depends on how aggressive or desperate they are to grab market share or increase sales and forego profits in the short term. Add China into the equation and price is definitely not a long-term competitive advantage.
How do brands affect sales?
The graph below compares short-term sales promotions vs long-term brand building and how it affects sales. Short-term sales promotions look to get people to buy without building a connection with the brand. These advertisements are the "50% off today only" or "Buy two and save $5".
On the other hand, long-term brand building:
Connects with their audience on an emotional level.
Educate their audience on their products and services.
Show why they are different and better vs their competitors.
Reinforce what their competitive advantage is over the others.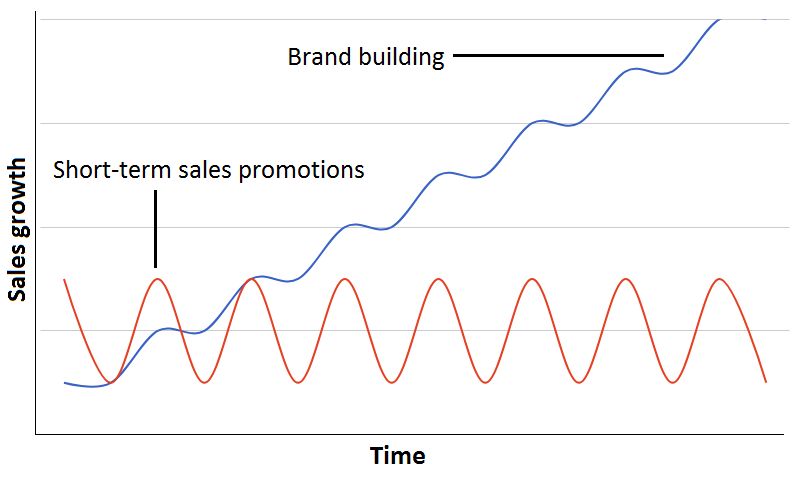 Short-term sales promos vs long-term brand building
How about margins?
According to Morningstar, companies with intangible assets generate 120% higher net margins over a 10-year period than the ones with no competitive advantage at all.
| Moat | No.of companies | Net margin 10-year |
| --- | --- | --- |
| Intangible assets | 491 | 9.7% (120% higher!) |
| None | 651 | 4.4% |
Source: Morningstar
In the short run, a company without a brand might generate an equal or maybe even a higher margin than a company with a brand but in the long run, the margin of the company without a brand gets squeezed as more competitors enter the industry.
How do you build your brand with signage?
Three facts that build a brand:
Fact 1: You can't buy it if you don't know it exists.
Fact 2: The average consumer usually can't name more than one or two brands in a product category.
Fact 3: Consumers are 600% more likely to remember a brand if they have used their products and services before.
Aligning those three facts into the marketing funnel, the awareness stage, and the customer stage are the two most important stages in building a brand. For those who aren't familiar with the marketing funnel, here is a well-explained post about it.
Why are the awareness and customer stages the most important?
Fact 1: You can't buy it if you don't know it exists – Awareness stage
Fact 2: Consumers are 600% more likely to remember a brand if they have used their products and services before – Customer stage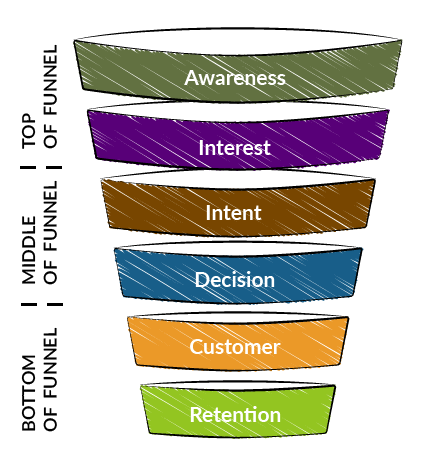 Let's look at Bunnings Warehouse, Australia's largest hardware store chain
Awareness stage

Large company signage outdoors to spread the Bunnings brand. Most importantly, they are also advertising their competitive advantage with their slogan "Lowest prices are just the beginning".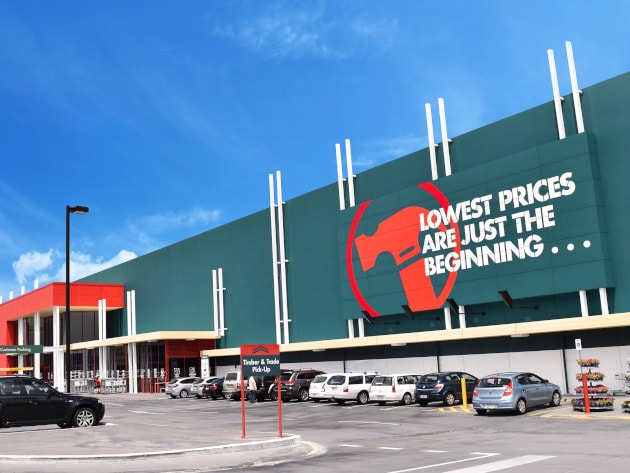 Interest stage

TV advertisements to generate interest and bring customers in.
Decision and customer stage – Point of sale signage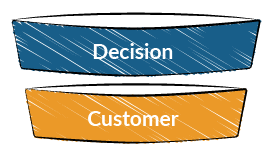 Their store is where they get customers to buy. This is where they generate all their sales and they have to make it as easy as possible for customers to find what they want. They use banners and signage to facilitate this.
For example, in the screenshot below, Bunnings used:
Two huge vinyl hanging banners to reinforce their competitive advantage and slogan.
Signage in each aisle to make it as easy as possible for their customers to find what they want. 

A signage doesn't necessarily have to be an advertisement. Sometimes, the shopping experience is the selling point.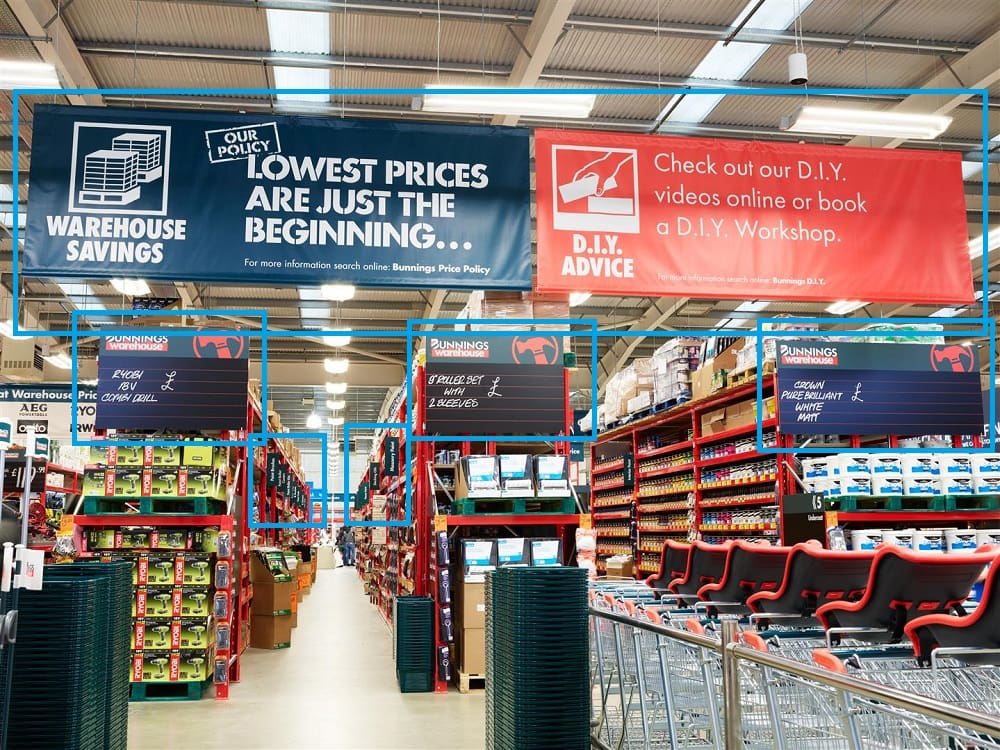 Point of sale signage to improve the shopping experience.
Retention stage

How Bunnings retain their customers is based on:
The competitiveness of their prices.
The shopping experience from the convenience of getting any home improvement item under one roof.
The convenience of having a Bunnings store near your location.
Bunnings' employees ready to help you out with your DIY projects.
And lastly… the Sausage Sizzle.
The Sausage Sizzle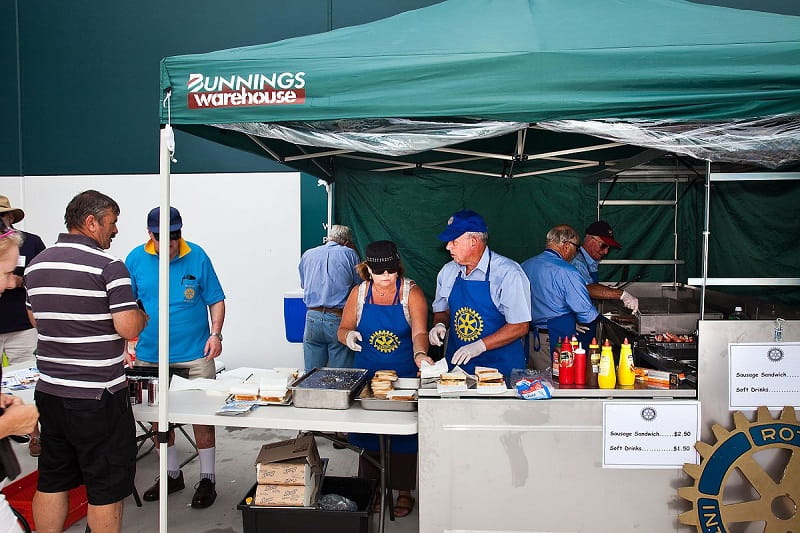 For anyone who has been to a Bunnings store on a weekend, they have what they call a sausage sizzle. The sausage sizzle is a fundraiser for schools and community groups.
Now you might think how does this benefit the Bunnings brand?
Firstly, even if they are doing it for-profit, it doesn't make them a lot of money if you compare it with their sales in 2016 which were $11.6 billion. On top of that, even if they manage to sell one sausage each to the entire Australian population, that would only account for 5% of their sales.
Secondly, it is a fundraiser which builds a positive brand image.
Thirdly, refer back to #2 above which is the shopping experience. Nothing improves the shopping experience better than food.  This further improves the shopping experience which brings back customers which further reinforces their brand.
Remember, consumers are 600% more likely to remember a brand if they have used their products and services before.
Recap
The goal is to be seen in as many places as possible and as many times as possible. That is the start of building a long-term competitive advantage.
"You can't buy it if you don't know it exists."
Signage you can use to build your brand
Work with us on your next signage project